Have you ever been surfing the web or reading the blogs of your most trusted blogging sources only to wonder which WordPress theme and plugins they are using?  I know I have and I'm sure you have too.  I'm also sure we're not alone, which is why there are a couple of good websites out there that can help break down the code, so to speak, and automagically decipher which WordPress themes and plugins are being used on any given site.
WP Theme Detector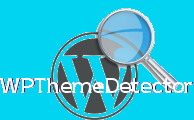 WP Theme Detector is a website that will scan the HTML code sent by the server for any given WordPress website and investigate which theme – both parent and child – is being used as well as which plugins are installed.  It won't give you the entire list of plugins, but it will reveal a few, along with two options to find more information about them.  One button will take you to the official WordPress.org page for the plugin and the other button will search Google for more information about the plugin should it not be in the WordPress repository.  I have used this site to discover several very good themes and plugins for use on my various blogs and sites.
In addition, WP Theme Detector has a FAQ page for more information about themes, child themes, plugins, and more.  They have a blog that accepts guest posts.  They also have pages that list the Top Themes, Top Theme Providers, and Top Plugins, as well as the customary About and Contact Us pages.
I'm sure you will find WP Theme Detector to be a valuable resource.
What WP Theme Is That

What WP Theme Is That is another website that has similar features to that of WP Theme Detector.  Thanks to Web Savvy Marketing to pointing this one out to me.
The following quote comes directly from their About page:
"This service was created in order to make it really easy for you to get all the details of what WordPress theme is being used on a site, so that you can create your own perfect WordPress site. In addition to finding out what theme is being used, you will also be able to see what WordPress plugins are being used."
Pretty cool, huh?  Like the other site, they have the usual FAQ page, Contact page, and Most Popular pages – for themes and plugins.  But what makes this site a little different is the Vote page, where you have the opportunity to vote for your favorite WordPress theme provider.  All the usual suspects are there, including Thesis, StudioPress, ThemeForest, Elegant Themes, and more.  While the results are obviously not scientific, you can get a feel for which creators developers tend to gravitate towards.
Find WordPress Themes and Plugins Yourself
Of course, there is always the option of finding the WordPress theme and plugins for any give site yourself.  All you have to do is right-click on the white space of a site and then select "View Page Source," which will then open up the source code for the site you're a viewing.  You can then use your brower's "Find" function to look for the keyword "theme" for the site's theme and "plugin" for the site's plugins.  Again, it won't give you all the information, but you will be able to locate the theme and a few plugins in use.
What tools do you use when searching for a WordPress theme or plugin?