A cathedral city? Did I need some more divine intervention or what?! Yes, I did! I wasn't about to get twisted just yet, I had heard mixed reviews about Worcester so I wanted to see for myself! Would it be a day of enlightenment for me? From the Hopmarket to Foregate Street I had a part of my adventourous side reintroduced to me! Take me to the River Severn now B!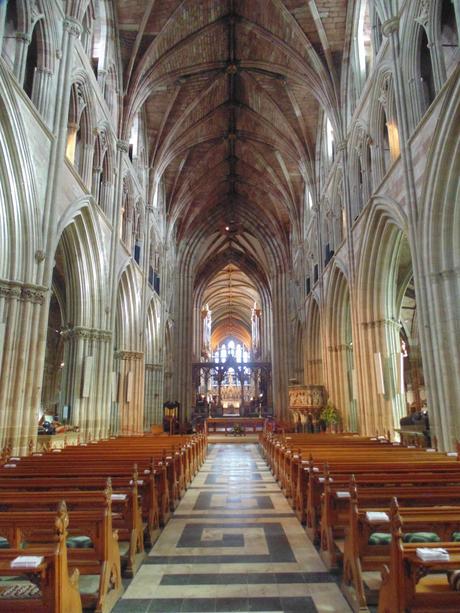 I took Worcester to church! I eventually made it to Worcester's Anglican Cathedral in my own time because I wasn't in no mood to rush at all! There must be something about places of worship? I couldn't get enough of the peace and quiet that Worcester Cathedral served to me! I was on the look out for a statue of the Madonna, I'm not religious but I see the Madonna as a strong female figure to take strength from but I must of offended the volunteer that I asked. I was like 'Where's the Madonna at?!' Apparently, the Anglican part of the church takes a patriarchal stance?! I was like 'I don't think so lady church person!?' It wasn't difficult to find a piece of calm in the end! With no Madonna in-sight I wanted to find the crypt to go underground! Silence!
Did I see the tomb of King John? That's a question I simply can't answer! Built between 1084 and 1504 there was some serious restoration going on at Worcester Cathedral the day I visited, we all need a makeover every now and then! After being denied the chance to see the Madonna, I went underneath the church to experience the crypt to be fronted by a blanket of silence and stillness. I hadn't planned much ahead of my trip to Worcester but I knew that I could rely on that formidable place of worship! Fashioned by a Norman flair it was evident to see various influences had made their mark on Worcester's Cathedral. Stuck on a treadmill of normality I wanted to breakaway for the day to seek some solace. Playing by the rules I paid for my photo permit, make your coins Mr. Jesus C!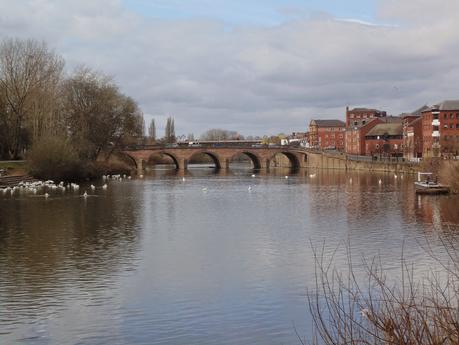 Finding the riverside from the cathedral gardens I was greeted by a calm River Severn. There wasn't much going on as I took some time out, but in actual fact it was great to watch the river flow past. Getting to Worcester took some going even though its not far from Birmingham, I took the Midland Metro from Bilston via the Hawthorns then a train onto Worcester's Foregate Street station. After the stillness of the crypt I wanted to be in the open for just a moment so the riverside seemed like the best plan. Up until that point my day in Worcester hadn't been knock out compared to other places I've visited but it gave me the chance to think about things, especially the riverside for its slow pace allowed my mind to runaway to a whole other place. I'm not throwing shade on Worcester because the sights that were presented to me did pleased my eyes, I was living for Worcester in ways that I didn't realise!
Capturing the perfect snap of Worcester's Riverside didn't take much doing because I didn't have my blog head on that day for I wanted to take in the sights without any forward thinking. The weather wasn't cold but neither was it warm so I bid farewell to the River Severn without much thought. Turning up my Nigerian beats I powered forth, making my way back to Worcester's city center to find a vibrant network of quaint streets that were exceedingly busy for a Friday mid-afternoon. Foregate Street oozed small city Overness with its main high street of well known brands and some independents that caught my eyes for sure! Any high street that has a 'Paperchase' is a winner in my eyes, let's just say a dear family member got a rather classy birthday card indeed. Worcester was like a medicine in the respect I used seeing the new sights as a tonic, easing my mood significantly! Choose Worcester's Riverside to meet the River Severn in a chilled state of mind? Yes!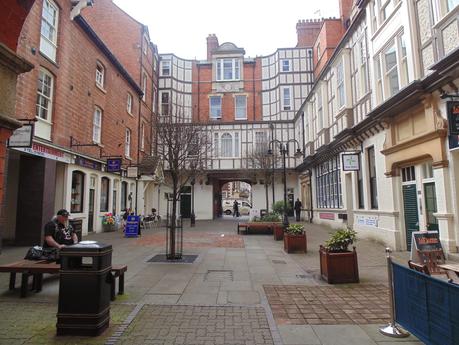 I thought I had seen everything I wanted to in Worcester until I stumbled upon the Hopmarket. Taking a unplanned left on Foregate Street I found a charming and quiet courtyard that I dismissed for a second but then decided to grab a a bit to eat at one of the cafes, don't quote me on the name because its slipped my mind. Indulging in a ham and cheese panini, I opted for a pot of tea to mix things up. Wanting more I saw 'Joy' a new age store, I bought some Nag Champa incense sticks. There wasn't a lot going in within that courtyard but never-the-less it made a great alternative to not have McDonald's for lunch. Maybe the Hopmarket will receive a financial boost to attract new business? I'm glad I found the Hopmarket when I did, for I would have jumped on a train without hesitation. Like I mentioned before I'm not throwing shade on Worcester as a place I just wasn't feeling completely myself really B.
Retracing my steps from the Hopmarket to the middle of Foregate Street's busy high street I found the Guidhall in all of its finery, from the outside obviously! I must admit that getting back into the blog mode was a great thing, I chose Worcester for location if I'm honest and I know that it didn't disappoint me! I didn't see the Madonna at that patriarchal place of worship but I found some calm within the stillness of the Cathedral's lower crypt. It might read that I was underwhelmed by that cathedral city but it planted a small seed into my head. I was like 'let's go out tonight?' I told myself 'NO!' Leaving the cathedral and the Riverside behind I bought some of my favorite Strongbow Dark Fruit cans for the night ahead because I was determined I would hit the streets of Birmingham's Southside that night! My day in Worcester did me good in many respects and yes I terrorised Birmingham Village Inn that night to my delight I had a great time from what I can remember!
Worcester ... I'm Good!
Joseph Harrison