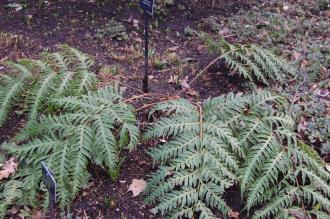 Woodwardia unigemmata (02/02/2014, Kew Gardens, London)
Position: Partial to full shade
Flowering period: N/A
Soil: Moist, well drained
Eventual Height: 1.2m
Eventual Spread: 1.2m
Hardiness: 7b, 8a, 8b, 9a, 9b, 10a, 10b, 11, 12
Family: Blechnaceae
Woodwardia unigemmata is an evergreen fern with an arching habit. Its dark green waxy leaves are bipinnate fronds, up to 1m long, 60cm broad. and produce 'bulbs' at their tips leaves. Its new fronds appear bronze/ red in spring. Its roots are rhizomes.
Woodwardia unigemmata, commonly known as Jeweled Chain Fern, is native to south China to east Asia. In its native habitat it grows as a forest understory plant.
The etymological root of the binomial name Woodwardia is named for Thomas Jenkinson Woodward (1745–1820), a British botanist. Unigemmata is derived from the Latin uni meaning 'one' and gemmatus meaning 'jeweled', in reference to the 'bulb' appearing at the end of its fronds.
The landscape architect may find Woodwardia unigemmata useful as part of an understory woodland planting scheme or other shady locations.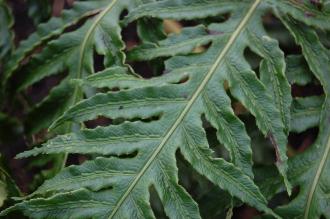 Woodwardia unigemmata Leaf (02/02/2014, Kew Gardens, London)
Ecologically, Woodwardia unigemmata is of little wildlife value in the UK.
The Royal Horticultural Society has given Woodwardia unigemmata their prestigious Award of Garden Merit in 2012.
Woodwardia unigemmata prefers moist, fertile, well-drained soils. It prefers a neutral to acid pH of soil. It dislikes dry soils.
Woodwardia unigemmata requires little maintenance.