Featured on CNN, The Times, Huffington Post and glossy magazines like Cosmopolitan, Wonderbag is something of the future. Created by Sarah Collins, who remembered seeing her grandmother put towels around pots after cooking and used the same technology for her revolutionary item. Heat-retention cooking is an age-old technique and wonderbag's fun and unique design has brought it back into the 21st century!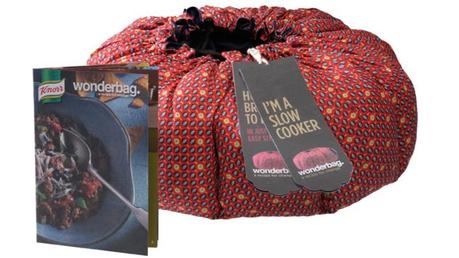 It really is very simple. The Wonderbag is a simple, but revolutionary, slow-cooker.  It continues to cook food that has been brought to the boil by conventional methods, without the additional use of fuel.  No plugs.  No fuss.
With a Wonderbag you can cook nearly any slow-cooked recipe from meaty stews and vegetable curries to simple rice and soups. You kick-start the cooking process by heating your pot of food on the stove, then simply place it in the Wonderbag.  You can take your slow-cooked favourites anywhere.  Perfect for potlucks, camping, barbequing and tailgating.
And because the Wonderbag is unplugged, your free time will also be worry-free!
The slowed cooking process, combined with sealing the pot in the Wonderbag, ensures the flavors and nutrients are retained inside the pot – not evaporated into thin air.
What's even more amazing is that for every bag purchased one is given to a family in need in Africa.