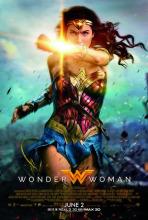 Before she was Wonder Woman she was just Diana a Princess of the Amazons and trained warrior. She had no idea of her true powers and her destiny. When pilot Steve Trevor crashes into her world she decides she must help him and end the War to end all Wars.
This is the one we have all been waiting for, well I certainly have. The trailers have made it look fantastic and that it could well be the actual starting point for DC, or a kick-start really. After we have had Batman v Superman and Suicide Squad which did not quite live up to expectations a lot rested on Wonder Woman. The most pleasing thing to start this review off with is that it is absolutely fantastic. As an origin story, as a comic book movie and as an action film.
It all starts when Diana receives a package from Bruce Wayne, it just happens to be that photograph we have seen before. From the War, and we are about to get her story. I thought that was a good way to start it all off and we see Diana grow from a child who wanted nothing more to fight and be trained to the woman who wants to go and defend the earth.
The character development is very good and I did enjoy the early scenes including the training of the other Amazons. Especially considering we don't see many men at all to begin with, this then creates some rather amusing jokes. Considering she has always been on their island in her own world, meeting Steve was a big event really. The funniest moment has to be when he talks about men and women together and her comment about men not being needed for pleasure absolutely brilliant I am sure the male members of the audience will be wounded by that comment.
It all flows together very nicely as we get her story, how she begins to help the soldiers in the war and the action sequences are quality. We get quite a few different sequences when she really gets to show off exactly what she can do using different equipment along the way as well. Everything she is doing is in the search of Ares the God of War, she believes if she stops him then she can stop all Wars. Nice little twists for that as well, obviously not going to spoil it! I did like the links to love and that it can really save people, important to think about that really as the plot is deeper than you may first think.
Gal Gadot is seriously perfect as Diana/Wonder Woman she has every single part of the role so spot on and how you imagine the character to be. I know we had some small glimpses when she was in Batman v Superman but this was very different as it was constant and it was well brilliant. As a woman we want to see females fighting like this and being a different type of role model to all of the male superheroes we are always given. The best thing about it certainly has to be how good the film is on the whole as well, not just parts of it all of it. Chris Pine offered a good character to play opposite in Steve and I thought the pair really connected well with one another.
I am happy for DC that they have eventually nailed a film as it seems they have been trying very hard over the past few years and it just hasn't worked out for them. This has changed it all and now I really cannot wait to see how Justice League works out, as it does set it all up nicely for that film now. I will be very tempted to head back to the cinema to see this one again! I have had the theme music stuck in my head since watching the film, the way they placed it in was very haunting.
Advertisements