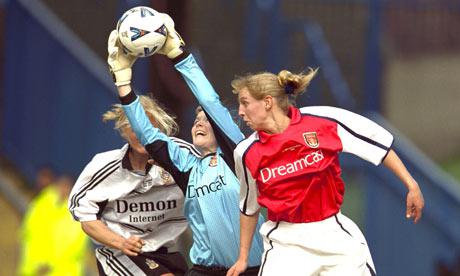 The FA Women's Super League
April 13th 2011 was a landmark day for women's football in England as Arsenal took on Chelsea in the inaugural match of the FA's Women's Super League (the WSL). And it was also a personal landmark day as I was able to watch the match on TV. Yes, I did. Women's football. On TV. I have never had the opportunity to watch women's football matches on TV before so excuse my excitement.
Featuring eight clubs including Chelsea, Arsenal, Everton and Liverpool, the WSL has been three years in the making. Official plans for the league had been announced in 2009, but it has been a league that has been needed for longer than that. It is the step forward that women's football in England has desperately needed: a league that is semi-professional, that aims to develop the footballing talent in England and pull women's football away from the shadow of men's football. The latter has been a message echoed repeatedly throughout the build up of the league. And it was a message that was echoed yesterday as pundits, players, managers and an official from the FA alike repeated that the key to the WSL was that it was a separate entity from the men's league; that it's differences (such as the fact that it's played in the summer, that it has eight teams, that tickets are cheaper, that it is smaller and thus easier to get into) are all differences that will help it flourish and hopefully be a step towards women's football finally challenging the men's game.
However, there are some differences that reveal just how far the women's game has to go. For example, each of the clubs involved in the league has signed a cap that will prevent them from paying more than four of their players £20,000 or more. This is a measure that has been put in place to help prevent the league from finding itself in financial difficulty but it is a measure that highlights the gulf in the resources available to the women's game. It is difficult, for example, to not compare the £20,000+ some female players will be earning a year to the £95,000 a year that an average 19-20 year old male player earns. Yet the WSL's approach to finances is commendable, and it is a step that men's football shows look to imitate instead of spending £250,000 (the average annual budget of a WSL club) on the weekly wage of a single player (Wayne Rooney of Manchester United). The cap of the wages is also understandable when you consider the league is small, in its first year and semi-professional. Yet the difference is still there to be noted and says a lot about how far women's football has to go.
Moreover, funding is another issue that the game faces. The FA will be giving the teams involved in the league will be each given £70,000 this season as well as the next which they have to match. This limited funding has meant that some teams that were interested in the league have been able to participate, with some clubs even pulling out weeks before the first match. Again it is difficult not to draw comparisons between female and male teams, even those in lower divisions. It is important to note that the issue of funding in women's football is not new. Manchester United Women, for example, was scrapped because Manchester United did not feel it was a worthwhile investment and so stopped funding it. It might not be new, but it is certainly an issue one can hope will grow less noticeable as the WSL develops until it is not an issue.
Another difference that highlights the chasm between both leagues is the media coverage they both enjoy. The WSL has a four-year contract with ESPN which will see matches covered repeatedly. However, ESPN is not a channel that most people in the England have. Most will have Sky Sports, EuroSports or terrestrial television, so while it will be shown on TV, it will not be available for all to see. Moreover, while men's football is reported, daily, repeatedly, to the point where it seems to be all that has happened, women's football is lucky to gain more than few column inches. The opening match of the WSL has been scarcely covered, with the Guardian affording it a single article (that seemed to focus more on the pitch problems rather than the actual match) while the Independent and the Telegraph have nothing at all (at least not on their websites). The problem women's football (and women's sport in general) has always faced is a lack of popularity as a result of lack of media coverage. So ESPN might now be covering it, but without the support of newspaper coverage, the sport will continue to not have the coverage and popularity that it deserves.
I will conclude by saying this: I may have pointed out the negative differences but I cannot stress how pivotal the WSL is for women's football in England. It is finally a chance for female players in England to not only play in England, instead of moving to teams elsewhere, but to also enjoy an organised professional, funded, league structure. Furthermore, it is because of the WSL that I was inspired to start a blog about gender equality in sports and to even follow women's football more than I have done in the past. I also can't deny that a part of me believed that the inaugural match would take place and suddenly women's football would be everywhere, on every news channel, reported by every paper and not seemingly ignored to the point that I can't help but ask did it happen or did I imagine it? So while the creation of the WSL may show how far women's football has come, it also shows just how far women's football has to go. I look forward to what the WSL will achieve, and I wish it nothing but success.
Also posted on Vimbai's blog, Off The Sidelines