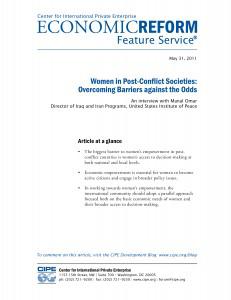 Women in post-conflict societies are often among groups most painfully affected by violence that transpired. They must struggle with the challenges of daily survival and take care of their families, often as widows or orphans. At the same time, women represent the best hope for revival in their communities if they can be empowered to take their place in the political, economic, and civic lives of those communities. To be effective, empowerment requires a parallel approach that focuses on women's basic economic needs through skills training and simultaneously helps women understand their rights and opportunities ahead.
In this Economic Reform Feature Service article, Manal Omar, Director of Iraq and Iran Programs at the United States Institute of Peace, discusses her first-hand experience in working with women in conflict-afflicted countries. She talked at length about her work in Iraq in her recent book, Barefoot in Baghdad. In the article, she shares several examples from the book and notes that after hostilities cease a small window of opportunity opens up when women's traditional roles can be re-negotiated if they are given place at the decision-making table. But often that fails to happen and "not now" response to the urgent need for addressing women's issue turns into "never."
"Economic empowerment is often a game changer," Omar emphasizes, "As long as women are overwhelmed with the needs of day- to-day survival, they will not be able to address larger empowerment issues. At the same time, having access to income provides women access to decision-making. Their income in many ways literally buys their freedom."
Article at a glance:
The biggest barrier to women's empowerment in post- conflict countries is women's access to decision-making at both national and local levels.

Economic empowerment is essential for women to become active citizens and engage in broader policy issues.

In working towards women's empowerment, the international community should adopt a parallel approach focused both on the basic economic needs of women and their broader access to decision-making.
You can read the article in full here:
http://www.cipe.org/publications/fs/pdf/053111.pdf