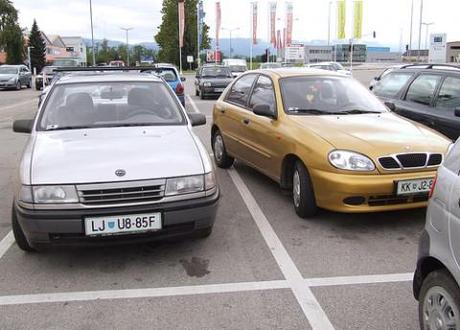 Parked cars. Photo credit: IceBone
Women are better at parking than men. That's according to a cliché-exploding study carried out by National Car Parks (NCP), which has appalled dye-in-the-wool misogynists and amused newspaper leader writers.
For the study, NCP used covert surveillance of car parks across Britain. Footage revealed that while women may take longer to park, they are more likely to leave their vehicles in the middle of a bay. Women were also found to be better at finding spaces, more accurate in lining themselves up before starting each manoeuvre, and more likely to adopt instructors' preferred method of reversing into bays. Men were shown to be more skilled at driving forwards into spaces and more confident overall, with fewer opting to reposition their car once in a bay.
"It is a cliché almost as old as the motor car itself, and the subject of many a sexist joke," observed Murray Wardrop at The Daily Telegraph. "But the idea that women cannot park is simply untrue, according to research indicating that female drivers are more adept than men at manoeuvring into a space."
Men at bay. "These results will swell women with pride," said The Times (£). "To many men, though, they will confirm women's failure to understand that parking is about more than just finding somewhere to leave your car for an hour: it is a continuation of life's Darwinian struggle by other means. For men work on the principle that since there are fewer parking spaces in the world than there are cars, driving is the highway version of musical chairs. When the driving stops, someone is going to be left without somewhere to park, and men are determined it isn't going to be them. Women? Women are happy to drive on until a parking space turns up, knowing that it usually does." The newspaper insisted that men and women "view the world through different windscreens. That is why women gladly take the first parking spot they pass in a supermarket car park. For men, it's a matter of honor to secure the closest possible space to the shop entrance; even if that means fathering a baby to gain access to a parent-and-child parking bay."
Hardly ground-breaking findings. "Perhaps the NCP might consider another ground-breaking study into how women read maps better than men, too," scoffed The Telegraph, which said that Cameron's "act of chivalry" in recently parking his nanny's car in a tight spot outside No 10 Downing Street was unnecessary: "Had he let the nanny take more time over the manoeuvre, she would probably have accomplished it better than he managed to – ie without slightly pranging the car in front." The newspaper flagged up that the survey revealed that men opt for the tightest of spaces if they have a woman in the car in order to impress her.