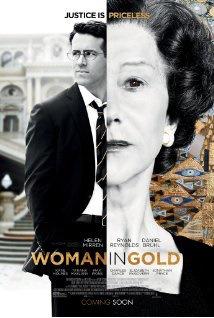 Director: Simon Curtis
Writer: Alexi Kaye Campbell (Screenplay) E Randol Schoenberg, Maria Altmann (Life Story)
Starring: Helen Mirren, Ryan Reynolds, Daniel Bruhl, Katie Holmes, Tatiana Maslany, Max Irons, Charles Dance
Plot: Maria Altmann, an octogenarian Jewish refugee, takes on the Austrian government to recover artwork she believes rightfully belongs to her family.
There may be spoilers the rest of the review
Verdict: Incredible True Story
Story: Woman In Gold starts Los Angeles 1998 where Maria (Mirren) is burying her sister, at the funeral she asks her friend for a favour. Maria is looking a lawyer and Randy Schoenberg (Reynolds) is the person she turns to. Randy has a big historic background but is trying to make it on his own after a failure to make his own practice work. Maria is trying to get her family artwork back after it was stolen during World War II by the Nazis.
Maria starts by just telling the story before pushing Randy into taking the case and after reluctantly taking his new boss Sherman (Dance) into taking the case and letting him go to Austria to investigate the case. The odd couple Maria and Randy travel to Austria and teaming up with Austrian Hubertus Czernin (Bruhl) to learn how the new legal system is starting and how difficult it will be to get her treasures back.
We do get flashbacks from Maria as she remembers pre-war and during the war what was happening to her family. When Maria loses her appeal it leaves the pair facing the losing battle when the only option is to go to court which they simply can't afford. They bring the battle back to the States where they finally get the upper hand but will they finally win the case.
Woman In Gold when it comes to true story films we ask the questions how much is true because the horror genre has ruined the concept. I am always interested in a true story that explains something from history, we know the horrific crimes committed in the war by the Nazi's. I think this is a great story that shows how hard people will fight for what is right, I do think some people will find this slow but fully enjoyable. (8/10)
Actor Review
Helen Mirren: Maria Altmann is a holocaust survivor who wants to bring her family's art back after it was stolen by the Nazi's during World War II. She teams up with young lawyer who has connections to her past to take on the Austrian government. Helen gives a great performance in the leading role. (9/10)
Ryan Reynolds: Randy Schoenberg is young lawyer who has a rich history in his name, he has failed in his business ventures to be a lawyer, he gets a chance to work with Maria putting all his future job opportunities on the line as well as his personal life. Ryan gives us a great performance showing he can do serious. (8/10)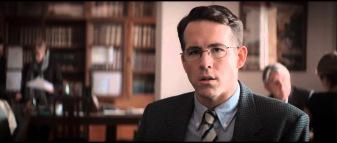 Daniel Bruhl: Hubertus Czernin is the Austrian connection that helps Maria and Randy learn about the Austrian law when it comes to reclaiming painting stolen during the war. Daniel gives a good supporting character performance. (7/10)
Support Cast: Woman In Gold has supporting cast that all help or hinder along the way of the case.
Director Review: Simon Curtis – Simon gives us a good film telling us an amazing true story. (9/10)
Drama: Woman In Gold shows just how far two people will go to for the truth. (9/10)
Settings: Woman In Gold uses the real settings to make everything feel real but also re-creates the locations in the flashback scenes that works great. (9/10)
Suggestion: Woman In Gold is one I think people should give a go, I do think everyone would enjoy this. (Watch)
Best Part: Chemistry between Mirren and Reynolds.
Worst Part: People might find the subject too serious.
Believability: Yes is based on the real story. (10/10)
Chances of Tears: No (0/10)
Chances of Sequel: No
Post Credits Scene: A few details about the true story at the start.
Oscar Chances:
Box Office: $33 Million
Budget: $11 Million
Runtime: 1 Hour 49 Minutes
Tagline: The fight for justice never ends
Overall: Woman in Black is a very underrated film that is brilliant story.
Rating