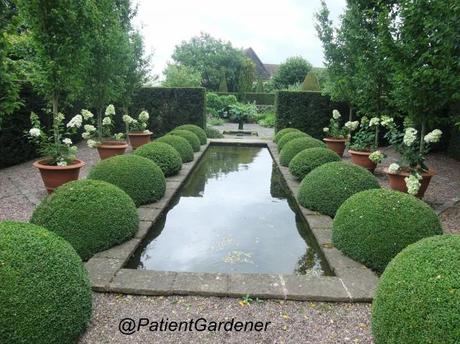 Wollerton Old Hall in Shropshire is a garden I visited about 6 or 7 years ago, it maybe even 8 years ago.  I remember thinking the garden was rather nice then and recently I have been musing that I really should go back and see how it was developing.   The garden is a two-hour drive from my house so needless to say there was always a reason for not going and whenever I was in the area it didn't coincide with their open days.  Anyway, I have become aware of a charity called Perennial and that they organize garden visits as a way of raising funds.  Lo and behold there was Wollerton Old Hall so I decided that I would book and go.   I am so pleased I did  as I had a lovely visit.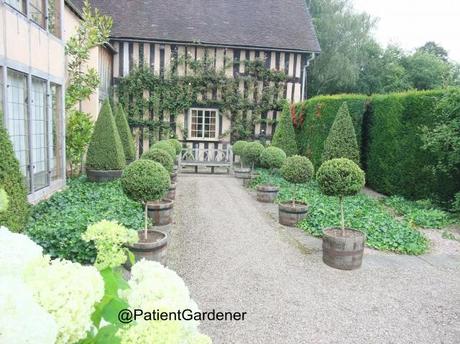 The timbered part of the building dates from the 16th century but when the owners bought the property in the late 1980s there was no garden to speak of.  The interesting part of the story is that when Lesley Jenkins, the current owner, was a child she lived in the house for 10 years and it was only a chance detour that lead her to discover the house was on the market.   Lesley trained as an artist and you can see this talent and training quite clearly in the plantings and how the various garden spaces are structure.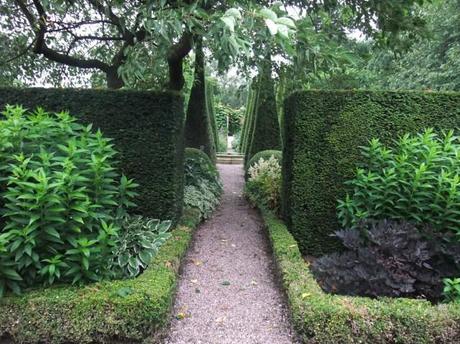 Now you might be thinking from the photographs so far that this is a garden of foliage and hedges.  Well the hedges and cones are very important for the structure and all round interest but this is definitely a garden of color.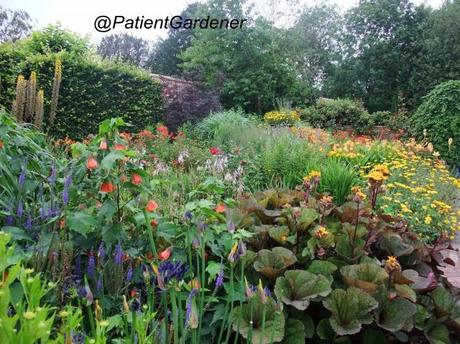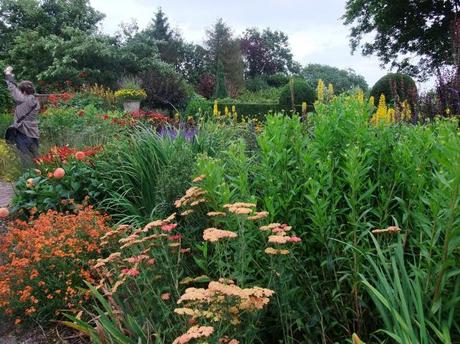 Our tour guide was the Head Gardener, Alan Humphris.  He told us how the hot garden had started as a hot border which got extended and then again last autumn extended again as the owners just love it so much.  I have to say it was my favorite area of the garden although I suspect at other times of the year other areas sing as much.  There is a lot of tender perennials in the borders which are planted out to replace tulips.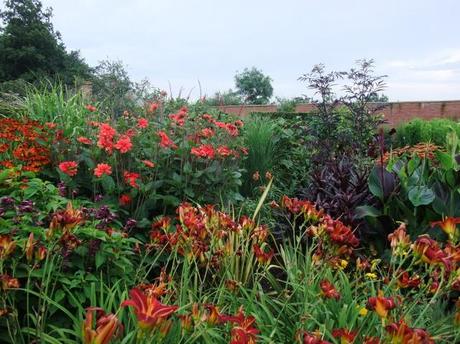 But enough of the heat there are other generous herbaceous borders in the garden.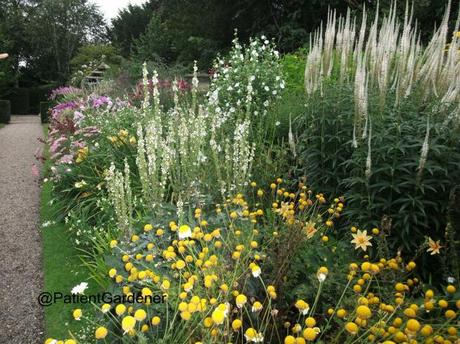 This is a border that  is loosely based on Gertrude Jekyll's style of planting with the flower colours ranging from reds at one end through to oranges etc at the other.  A number of people were commenting on how much color there was for mid summer when many gardens seem to be flat between early and late summer.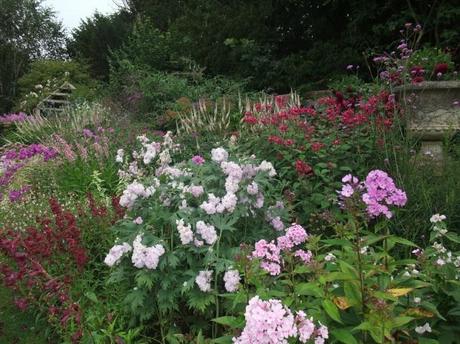 What really struck me at this garden was the amount of Phloxes.  I haven't got any phloxes in my garden although I often admire them on other blogs.  However seeing how much color they can bring to the border at this time of year I have decided that these are what I need to lift the Cottage Garden Border.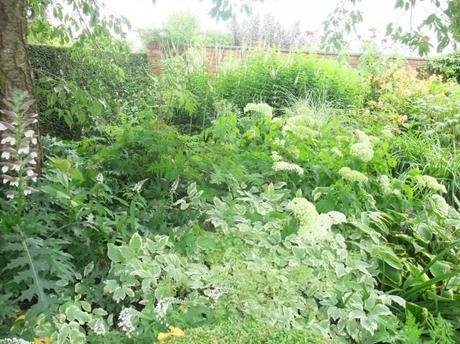 These are the highlights of my visit but we also had a lovely two course lunch, I bought some plants and had a lovely drive back cross-country through the gorgeous Shropshire and Worcestershire countryside.  All in all an excellent day.  I shall definitely go back to Wollerton Old Hall and I will be awaiting Perennial's Special Events list for next year.