I relive the time when Marlboro Tour is still a hot commodity back in the days for cyclists and bikers alike when I see the professional cyclists battle it out for a circuit race yesterday February 16, 2014 in Marikina City for their 14th and final stage of Ronda Pilipinas 2014 International where my half day is worth spent because I never did I just enjoyed, cheered and get excited I also met and greet some racing legends like Querimit and Oconer.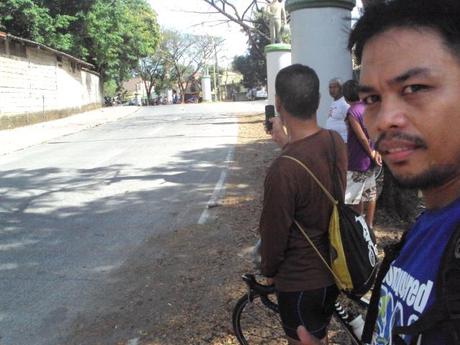 The guy is brown is Sir Marlon of AFP, I accidentally met him when I am going all out to catch up for the gun start of Ronda Pilipinas 2014 Stage 14 Circuit Race here in Marikina City. I overtook him along C5 – SM Marikina area and greeted me if I am going to watch ronda because he don't know the way to the venue and so I get along with him together with another guy on scooter but eventually when we get to the place he took off and find some place else to watch the race.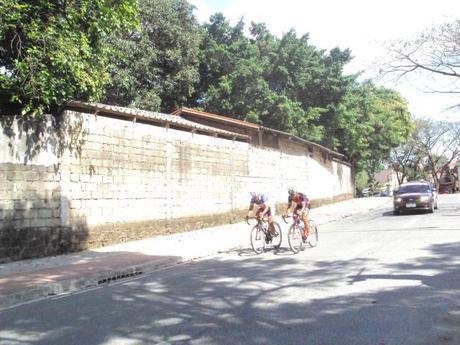 The Leaders of the 14th Stage, Feng Chun Kai of Taiwan and Ronald Oranza of PLDT-Maynilad (the pride of Pangasinan), they are neck in neck until the last lap but the foreigner took the stage on a photo finish.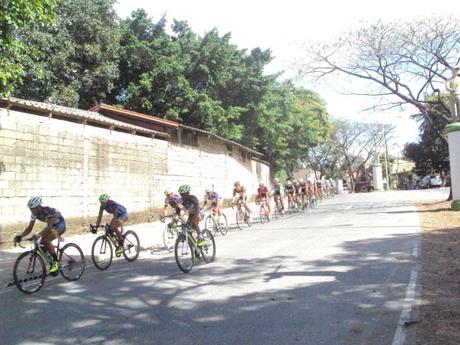 The Peloton leaded by the Philippine Navy / Standard Insurance.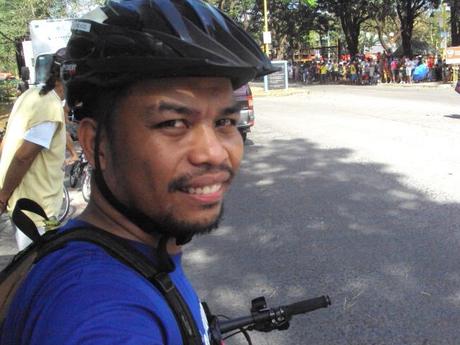 Cheese! Selfie mode on!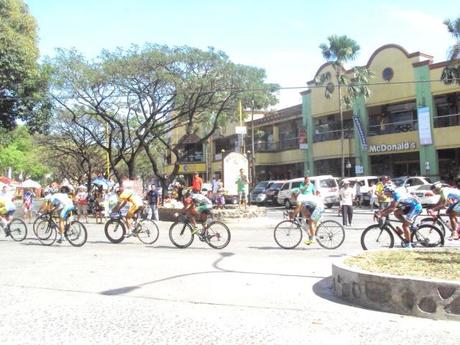 The chasers 37 seconds on the leaders and at this location of mine this is about 250 meters to the finish line.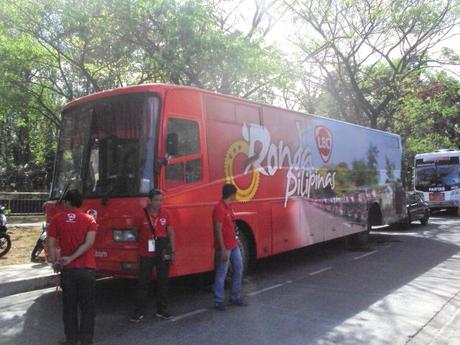 The Ronda Pilipinas Bus or Shuttle Service of cyclists/participants.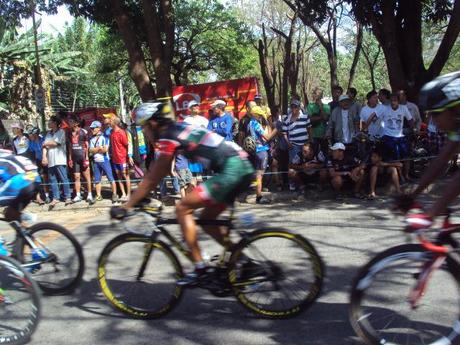 They come and go in a blink of an eye. I estimated they are riding at about 40 to 50KPH.
Back in the 80′s til the 90′s I always tuned-in on my transistors radio to get updates of the said tour and I am always rooting for Pangasinan Riders and sometimes Nueva Ecijanos (my birth place) but this time I rooted for Mark Julius Kulotz Bordeos, Ronald Oranza, Mark Julius Bonzo, Santy Barnachea and Mark John Lexer Galedo (from Socksargen?) to win the overall but sad to say it was captured for the first time by a cyclist from Butuan City, Mindanao in the name of Reimon Lapaza. Ronda girls are so hot by the way haha.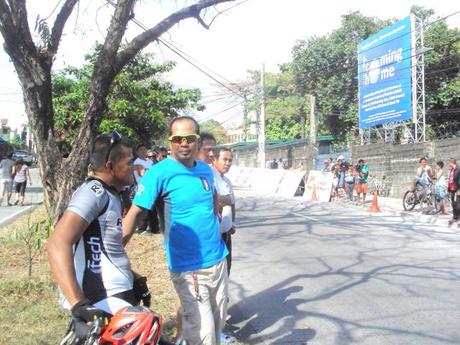 Racing legend Oconer watching/cheering for his son George Oconer who tops the under 23 category or the Yellow Jersey leaders and bring a 1K grand prize plus other winnings.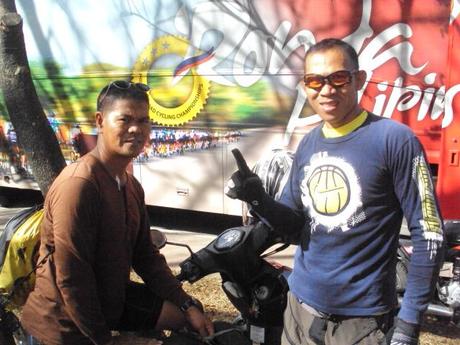 Met my friends of the day: Sir Marlon of AFP and Kababayan Arnel Querimit – The Tour de Filipinas 2003 Champion from the neighboring town Pozurubio, Pangasinan and enlisted soldier of Philippine Army, he is actively doing MTB rides at Camp Aguinaldo.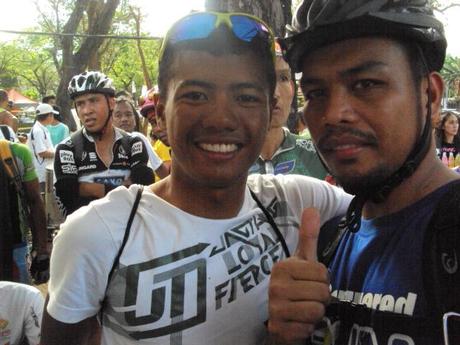 Meet Mark Julius "Kulot" Bordeos also my Kababayan and this time I am proud to say that he is from Laoac, Pangasinan my home town. This young gun has a lot to say because he finished 15th place on this Ronda Pilipinas 2014. This is my first time to see a Laoac Cyclist on tv too hahaha. I guess we are making loud shout outs lol.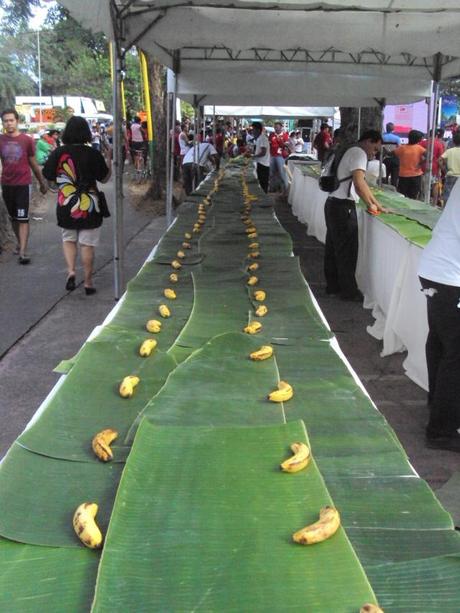 The bananas. Race organizers are prepping up the Boodle Fight for the participants, organizers and guests. I was invited to eat too so why not I am hungry anyways. Haha!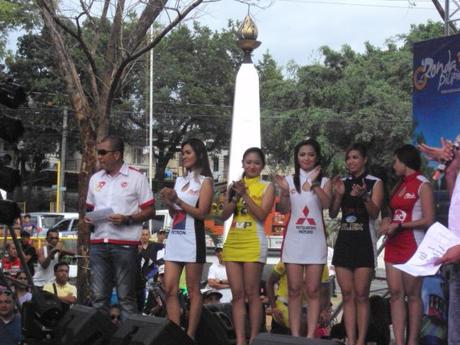 The host of the day and the hot Ronda girls wearing their sponsored skirts from Petron, MVP (Manny V. Pangilinan Sports Foundation), Mitsubishi Motors, Petron-NLEX and the major sponsor LBC (We like to Move it, Move it daw) haha.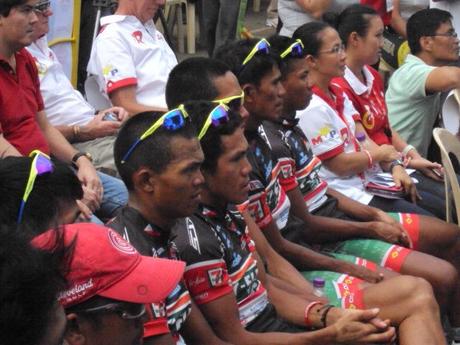 The 7-Eleven Team at the stands during awarding ceremony. Kulot from Laoac is one of them. Congratulations for finishing 3rd Place!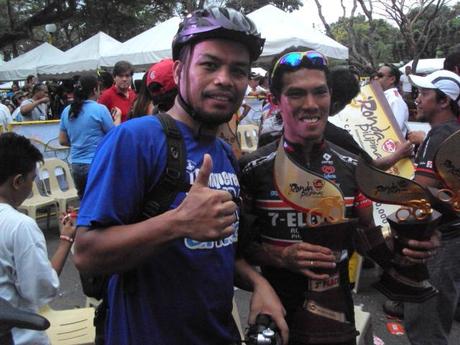 Photo opt with the 3rd Overall winner Mark John Lexer Galedo of Team 7-Eleven.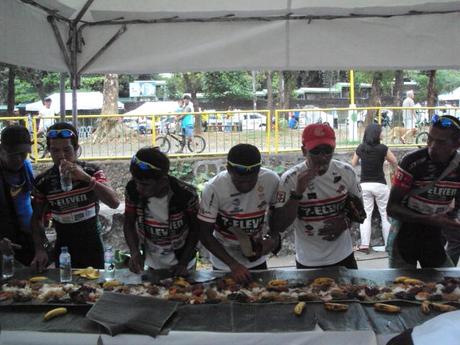 It's boodle fight time.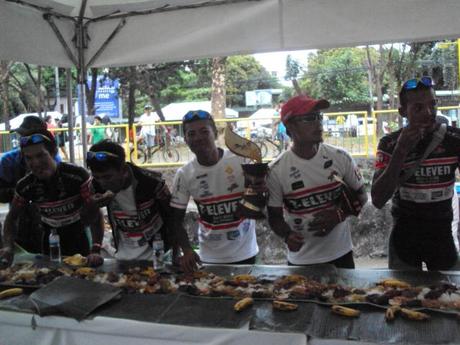 Mark Julius "Kulot" Bordeos holding their trophy and smiling for this shot haha. Congrats!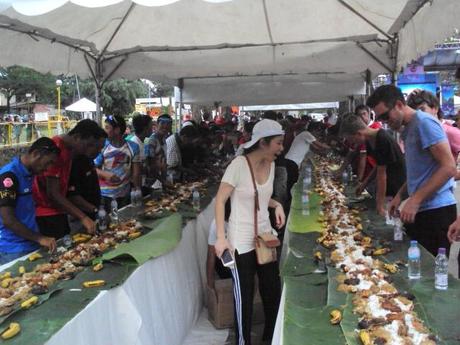 Cyclists, organizers, sponsors, foreigners and locals are enjoying the boodle fight including me haha. Thanks Ronda Pilipinas Organizers for the food it's so Masarap! Sulit Panonood!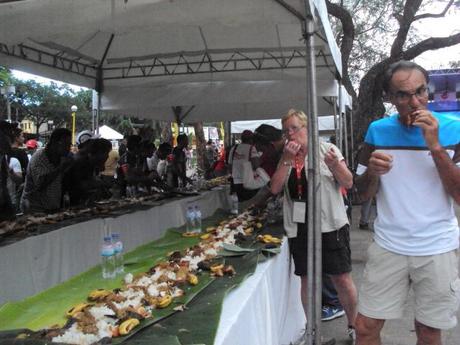 Foreigners is also devouring the chicken, the pansit, the salted egg and tomatoes.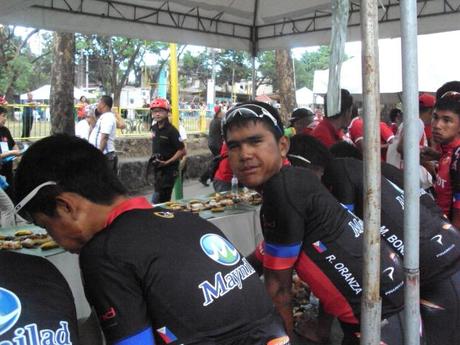 I called another Pangasinan Pride for this pic and he is no other than Ronald Oranza who placed 2nd overall in Filipino Individual race and other awards and winnings right beside him is a fellow Pangasinense Mark Bonzo the Team Captain of PLDT-Maynilad – The 2nd place Team winning the 2014 Ronda Pilipinas International Edition.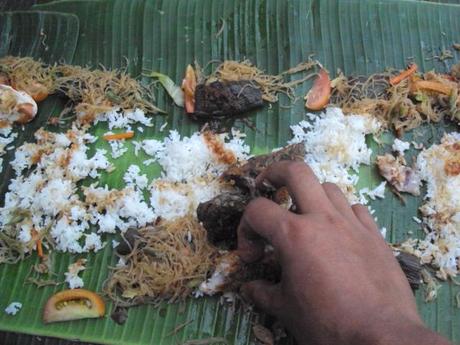 The food of the day. Salted Egg with sweet fresh tomatoes, friend Tilapia, Chicken Adobo, Pansit, Rice and my right hand hahaha yummy. Thanks to the sponsors!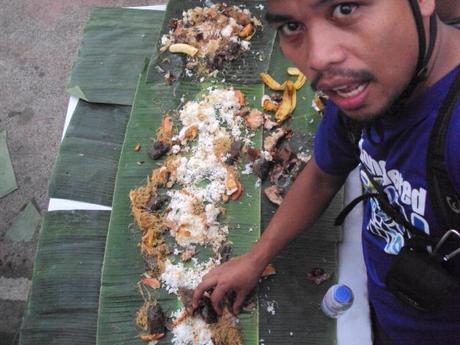 Hey it's me Kalongkong Hiker-Biker during this Boodle Fight! Eveybody is giving up but I won't lol but nada even me gave up I couldn't eat 'em all haha.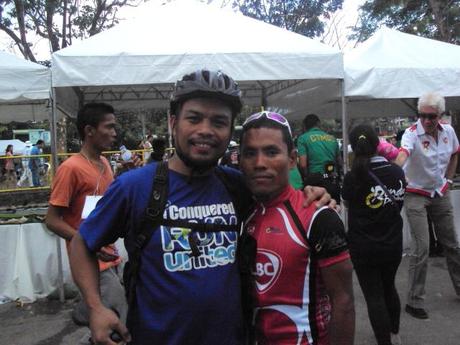 I am on my back to the road going home when I bump into to this guy. Do you know who is this? Well, he is no other than Reimon Lapaza of Team Cycleline-Butuan Mindanao this years come from behind Overall Individual Champion in Red Jersey Leaders category. He holds the record of being the 2nd cyclists from Mindanao to ever win this cycling tour here in the Philippines, they say that the first one is from the 1950′s, quote by the host.
A simple remembrance from Ronda Pilipinas 2014, a baller and a water bottle from Kulot.
This is an arm of a bike to work man, the man from Laoac, Pangasinan.

Me angal? lol
At the end of the race and awarding ceremony when I am about to go home I was called and invited to join the boodle fight so I ate, "di ako tumatanggi no, kala niyo" taga-Kalongkong to at apo ni Enteng Mercado lol. I even got a remembrance for this momentous event Kulot gave me a water bottle they used during the race and I was able to rebound a Ronda Pilipinas baller. It was so call but I enjoyed it and ended up racing going home haha. That's all folks! Thanks Ronda see you next year again!
16.033333
120.550000