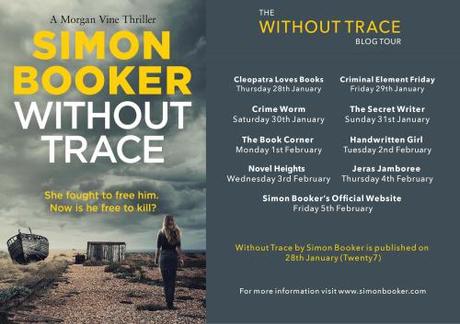 After recently reading Without Trace I am delighted to welcome the author, Simon Booker, to give us a bit of background to how this book came about:
After many years writing for TV (Inspector Lynley Mysteries, Holby City etc), penning my debut crime novel was a very different experience. Without Trace is the first in a series of psychological thrillers featuring Morgan Vine, an investigative journalist who specialises in miscarriages of justice. A single mother, she lives in a converted railway carriage on the eerie, windswept beach at Dungeness. For four long years, she's campaigned on behalf of her childhood sweetheart, Danny Kilcannon. He's in prison, convicted, on dubious evidence, of murdering his teenage stepdaughter. But when Morgan's own daughter goes missing and the finger of suspicion points firmly in Danny's direction, she is forced to question all she knows about her old flame. Is he the wronged innocent she believes him to be or a ruthless, manipulative killer?
Morgan isn't based on any one person but she combines elements of many of the women I most admire: she's clever, kind, witty, tenacious and tough as old boots when the need arises. She also has a complicated love life. Although she still holds a torch for Danny, she's had numerous other love affairs, none of them successful: 'the workaholic lawyer (too neurotic), the would-be poet (too self-absorbed), the wily reporter (too married)'. To date, her relationships have all been with members of the opposite sex, so finding herself unexpectedly drawn to a woman during the investigation into Danny's innocence (or otherwise…) comes as something of an eye-opener. It took me by surprise too. And that's one of the pleasures of plunging your leading character into a complex story full of unexpected twists and turns. Although I'd planned much of the plot in advance, there were many occasions during the writing process when Morgan took even me by surprise, and there were several major developments I had no inkling were coming until they arrived 'out of nowhere'. In the words of great American novelist E.L. Doctorow, writing a novel is 'like driving a car at night. You never see further than your headlights, but you can make the whole trip that way'.
I'm currently writing the second book in the Morgan Vine series – another investigation into a shocking miscarriage of justice – and the process is as full of surprises as it was for Without Trace. I hope this bodes well for lovers of thrillers full of twists and turns. If the author doesn't know what's around the corner, how can the reader?
You can read my review of Without Trace here