Jean Arasanayagam was schooled in Kandy and graduated from the University of Peradeniya. Her name is synonymous with English literature in Sri Lanka, and her work, which has been published internationally by Penguin India and locally by Godage Publishers, has been translated into Danish, Swedish, French and German. Jean has published over 40 books in her prolific career, and, says "I have five books to be published still!"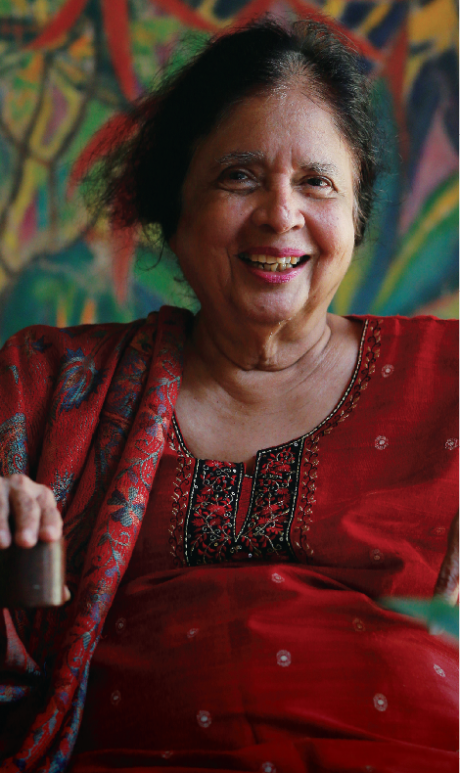 Her latest work, 'Lines Drawn On Water' was published in 2013. "I have not put it out on the market. I never do that. It is something unusual, but I am that kind of a writer who doesn't believe in this kind of thing," Jean says. 
Jean does not ask people to write reviews of her work and is not interested in involving herself in the 'vanity publishing industry and its concourse of ferries', much touted by Colombo as Colombo's 'literary scene'. Even when I ask her why she will not, instead, host a book launch, she replies offhandedly "Who is going to come and listen?" 
Jean insists truth and integrity is necessary to creating something that will reach out to humanity. "You are not the center of your universe," she says, referring to self-absorbed writers, and "self-pity is the worst thing." 
Water is a constant symbol in Jean's writing. "Maybe it is also racial memory, and the fact that my ancestors sailed into the island,' she says, "To use lines from my poems, I have 'suckled on a breast chafed by the genetics of history', and so, 'I am a poet of the bi-cultural experience." 
Hybridism, to her, is something of a 'colonized cloning', but she finds being a hybrid vastly exciting. Jean explains, "there is all this divisiveness between majoritarianism and minoritarianism, but I never thought of those things when I was writing. 
Strangely," she continues, "entrance into my husband's culture has played a tremendous role in my life. His background and particular culture is portrayed in Peacocks and Leaves." 
Initially, it was her paintings, which began with landscapes that influenced her first poems: "My life as a child in Kadugannawa, and onwards to Anuradhapura, where my father was a historian and worked in the railway – he would take us through the ruins, gardens, the wewas, and the temples," she says, explanatorily.  Her writing became a form of self-investigation with her first published book of poetry Kindura. 
She began exploring the theme of identity during the late 70s. "I was beginning to understand what colonization meant. In university, no one stressed about colonization, they just gave us the basic facts on imperialism," she explains. A Colonial Inheritance was published in 1985. "I wrote about the houses of my ancestors, as well as of my husband's culture." 
In 1983, Jean experienced the 'halcyon days' of her life, as a refugee, in contrast to what she had experienced thus far as a student. "I wrote a play, The Captain Has Come, about the incidents that took place at the camp. I also wrote one called The Sack about how a woman dragged her wounded son in a sack after the massacre. I wrote another about the radical movement called The Buddha's Fire Sermon." 
A poem becomes a play; a play becomes fiction, and so on. Jean says, "There are immense possibilities in extending the medium through which a theme is explored." 
Commenting on her poem Ruined Gopuram, Jean says, there were a lot of factors that contributed to its creation. "The whole spirituality of the landscape was important to me; the burial of a Saint in the Samadhi position within this temple," she recalls, "That is the temple we entered and my husband worshipped at. Beyond was the backdrop of this azure sea – limitless space, one's mind could traverse the whole of that ocean, but you have to connect it with the landscape: the spirituality of the experience, not only the historicity." 
"There was this sculpture of a goddess on the verge of the ocean in a hollowed out bit of rock," she details further, " It struck me forcibly that this had survived – what with all the depredations of time; it was the survival of the spiritual, not the physical," she adds. "The other side held the ruins of the temple – no one even to ring the bell. It was there as a symbol of something vast and important; the whole tradition of spirituality and religion which endures in spite of war, revolutions and destruction," she says. "Those are the enduring factors that struck me." 
As an artist, Jean was also interested in the permeations and mutations of colour, texture and movement. "Here was the stillness, the silence of the temple – the Ruined Gopuram," she describes, "There was the sea that was so alive to me, sparkling brilliantly in the sun. The temple bells were silent, yes, but to me it remained rooted in the landscape." 
She insists that it is her own vision of timelessness that exists in the landscape. "Of course, there are political interpretations of this poem," she warns, "Let it be, though, that I did not think of ethnicity or politicization at that time." 
Most people still remember her poem In The Month Of July, although Jean is not comfortable being identified only by it. "I have second thoughts about this poem being used in anthologies, because people have marked me out as someone who is politically on the other side. Why?" she asks. "I do not want that. I don't want to be branded that way. 
"I have written a vast body of work about the radical movement of 1989, but I am remembered for the July '83 poems and for Political Prisoner. Why do people keep centering and focusing only on these poems? When people ask what my themes are, I tell them – ethnicity, identity, inheritance, radicalism, personal relationships, struggle, the politicization of the human being, the landscape and the country, gender, social torture through marriage – there are so many. 
I believe that within me, there is an unexplored power, which makes me see what others do not see; I can grasp the image, and work around it." She says. "If I start painting, I won't be able to write," she explains further, and, so, "I have chosen a way of life, and some of my poems have even led to my being branded a political criminal. But I wrote on what had an impact on me".
Jean is currently involved in a rather large project – "the first is Genesis 1," she says, "and it's about the Burgher identity".  "Together with about 20 or so poems I will call it The Legacy." Genesis 2 , on the other hand, will be a play, while Genesis 3 will continues on the theme of identity, "but is also about my own collisions with other Burghers outside of the country – and what they have made of their lives; Burghers celebrating their lives and forgetting their roots, not wanting to remember".
Originally published in The Sunday Leader