This post may contain affiliate links. Please read my disclosure.
Witches Brew Cocktail is the perfect drink to liven up your party! Ready in less than 10 minutes, with only 3 ingredients, it's delicious and easy to make. Its spooky natural green coloring, vodka, and dry ice is exactly what you need in your life!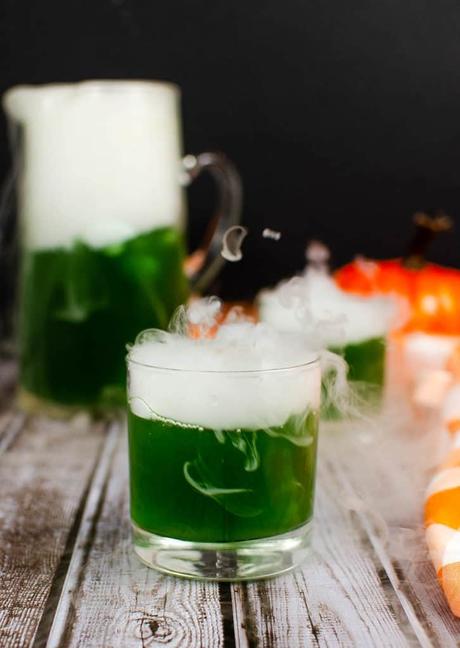 Cocktails are a fun way to celebrate Halloween. Whether you're throwing a party, or just enjoying the holiday with your family, everyone will be intrigued by the flavors and style of this drink.
When you serve this witches brew cocktail, you will see that it's a real show-stopper. So don't be afraid to give it a try because you won't regret it!
Tools and Equipment You'll Need
Mixing Bowls to mx together the cocktails
Using a good-quality Whisk is the best way to get rid of clumps
Pitcher, punch bowl, and glasses
Ingredients You'll Need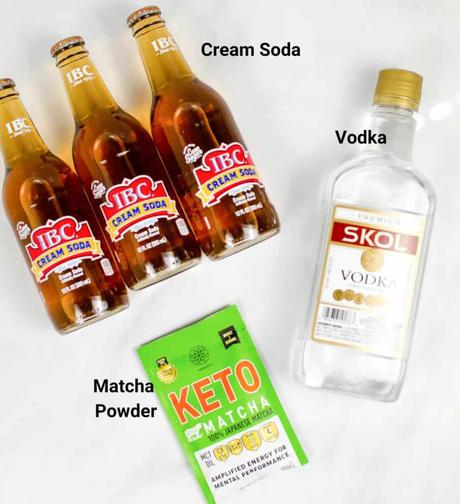 Cream Soda: If you are looking for a lower sugar option, you can use Zevia Cream Soda
Matcha Powder: There are tons of options in terms of which brand to buy - so just get whichever matcha powder you like the best!
Vodka: Get your favorite variety!
Step by Step Instructions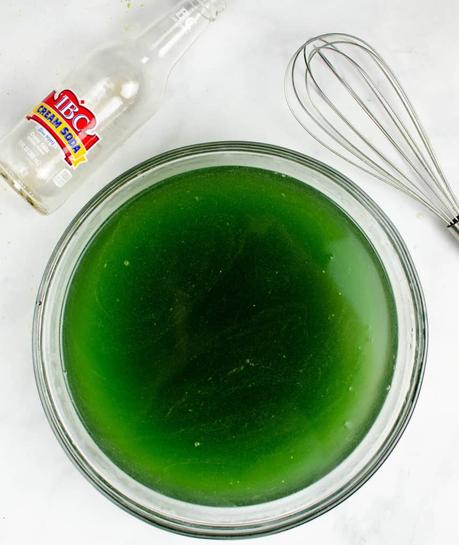 Step 1: In a large bowl, add every ingredient. Whisk well to make sure that the matcha powder is well incorporated. If there are some clumps after whisking well, you can remove the clumps with a spoon. Note: If using green food coloring, add 2 drops at a time, then mix well. Continue adding drops, then whisking, until desired color has been reached.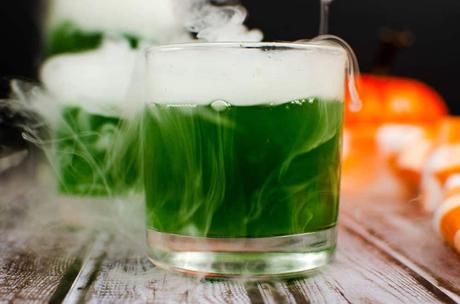 Step 2: Transfer the drink to a pitcher, punch bowl, or glasses. If serving in a pitcher, add a few cubes of dry ice. If serving in glasses, add 1 (1 inch) cube of dry ice per glass, and serve your spooky beverage.
How to Make A Healthy Cocktail
No artificial colors: While you can use green food coloring for this cocktail, I like to use matcha powder because it's all natural and gives you that green color without anything artificial!
Vitamins and Minerals: In addition to potassium, matcha green tea also has zinc, iron, phosphorus, magnesium and amino acids as well.
Option to use a no-sugar cream soda: While this recipe uses regular cream soda, you can always reduce the sugar (down to 0 grams per serving) completely by using a no-sugar cream soda.
This witches brew cocktail is more of a treat than a healthy drink, because of the added sugar in the cream soda. However, there are a couple of ways this cocktail is healthier than most:
How to Make a Kid-Friendly Witches Brew Mocktail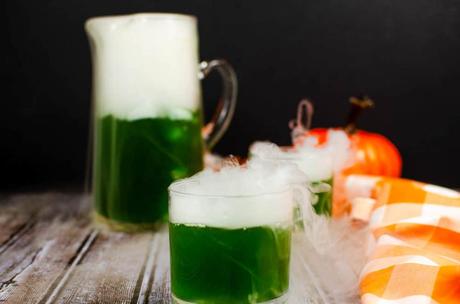 Obviously, cocktails aren't for kids, and they shouldn't be drinking any kind of alcoholic beverage. But you can leave out the vodka and make a kid-friendly mocktail. They will love how cute it is and will be more than happy to sip on their special Halloween themed drink!
Do I need to chill my ingredients before preparing this cocktail?
Witches Brew Cocktail FAQs
Where Can I Buy Dry Ice?
While it's not required to chill the ingredients before prepping the drinks, it's certainly not a bad idea. Putting the cream soda and vodka in the fridge, so they are cold when you start is a great idea. You can always skip it if you don't have time because they dry ice will keep the drinks cold too.
How Do I Handle Dry Ice For This Recipe?
Most large grocery stores will sell dry ice (it's sold in about 1-2 pound blocks). The main thing to remember is because dry ice evaporates pretty quickly (within 24 hours), you should buy it just a few hours before you're going to use it.
How Do I Store Dry Ice?
Dry ice can be lots of fun and add character to your parties, but it needs to be handled properly. It's vital that you never touch it with your bare hands or consume it. It can burn skin in a very short time. It's best to use leather gloves, a thick towel, and/or tongs to handle the dry ice.
To separate the dry ice into 1 inch cubes for cocktails, you'll need a flathead screwdriver, hammer and a set of glasses. You can use the hammer and screwdriver to separate the block of ice into small pieces. Gently tap on the ice until it breaks apart. The glasses will protect your eyes just in case shards fly when you separate the ice (although this is rare when done carefully).
Use tongs to drop the dry ice cubes into the cocktail before serving. It will bubble for about 5 minutes before disappearing, so tell your guests not to drink the dry ice cubes.
To Store Dry Ice: When you aren't using it, keep the dry ice in a styrofoam or insulated container with the lid ajar. Don't store dry ice in the fridge or freezer. I recommend storing dry ice outside where there is good airflow (you can't keep it in a closed room because the CO2 will build up to a toxic level). And of course, keep it away from kids and pets!
To Dispose of Dry Ice: let any leftover dry ice melt into a gas in a well-ventilated space or outside. Don't throw it in the trash or the sink.
Swap the cream soda for ginger ale or your favorite light-colored soda or sparkling water.
For some extra Halloween fun, add some ice cubes that are shaped like various Halloween shapes. They are inexpensive and spooky.
Never ever eat or drink the dry ice. It can burn you if consumed.
The matcha powder is a healthy ingredient that enhances the color. It doesn't affect the flavor at all of the witches brew cocktail.
If you use a no-sugar cream soda, this recipe will have 0g sugar and only 90 calories!
These witches brew cocktails are going to be far better when you can drink them fresh. The cream soda is carbonated and will go flat the longer it sits. If you need to save it, you can refrigerate for 12 hours or so, but keep in mind it won't be as good as when it's fresh.
Be very careful when handling and storing dry ice. Do not touch it with your bare hands, and store it in a well ventilated space or outdoors, away from kids and pets.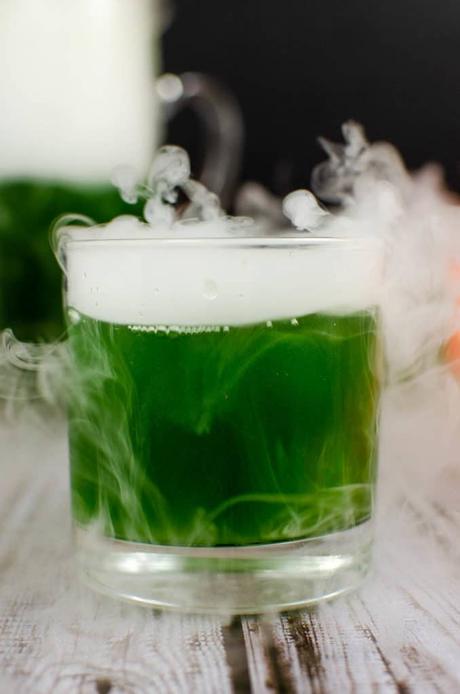 If you have tried this Witches Brew Cocktail recipe or any other recipe on my blog, then please rate it and let me know how it turned out in the comments below! You can also FOLLOW ME on
FACEBOOK
,
TWITTER
, INSTAGRAM and
PINTEREST
to see more delicious, healthy, family friendly food!
Top Tips for Making This Witches Brew Cocktail
Check Out These Other Delicious Drink Recipes!
Witches Brew Cocktail