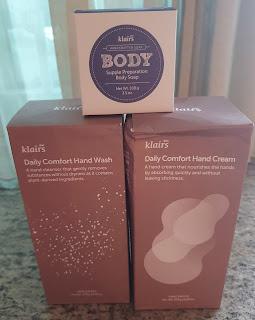 Basically, I am just re-stocking this time round. The next time will also probably be a restock because hehe, I am slowly emptying my favourites. :)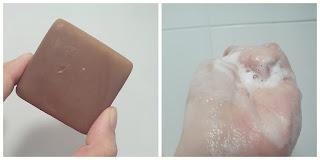 1. Klairs Supple Preparation Body Soap ($11)
Can't remember if I have shared my experience using their soap. Here goes. So basically, I use soap for my body. Odd I know, but it is said to be more environmentally friendly and there was a point I had so much cake soap at home. My only problem I have with them is that they are not very portable, unhygienic if shared and some brands are drying to the skin. This one is great because it is foams wells and doesn't dry my skin too much. Also, it keeps its shape in my toilet (some of my soap melts which is annoying).  It does come with the Klairs marking on them, just that I forgot to take a "before-use" photo. Oops.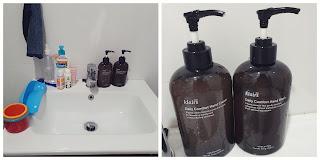 2. Klairs Daily Comfort Hand Wash ($30) and Klairs Daily Comfort Hand Cream ($30)
As mention before, after seeing the hotel toilets having a moisturiser, I decided to do the same for my house. Even my kid's toilet get to have its own set. It does make his toilet looks so much more sophisticated. Maybe it is because of my new craze, fun fact: my kid is also pretty obsessed about moisturizing his hands.
Quick updates on the handsoap, sadly I might not be compatible. The little eczema bumps on my fingers get ruptured every time I wash my hands. I think the scrub bits might be too much for my fingers to bear. And so...I am dropping this off my favourites until they have another version without the scrubs.