I have decided to take a shopping diet, until my birthday which is July 29th. With the exception of the opening of Sephora**, I have decided I will not buy anything I don't need until my birthday comes around.
I have decided that every Wednesday from now on will be 'Wishlist Wednesday'. On Wednesday I will post TWO 'Wishlist' items, one will be something I will be able to buy when my Shopping diet is over and the other will be something I would buy if I won the lottery ;)
So here goes, for my first wishlist Wednesday: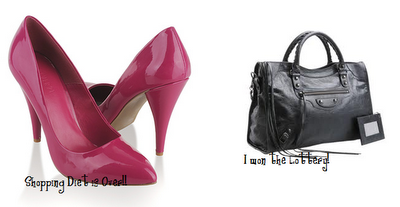 Forever21 Pink Heels - Balenciaga Bag
And there you have it, my first Wishlist Wednesday ;) I will try to come up with a better looking way to show my two picks then what you see above ;)
**Sephora opens on June 22nd in the mall near me and there is NO WAY I am missing out on that! This is my only 'shopping' exception. Also, I will not be cancelling my regular Julep and GlossyBox subscriptions. I won't be buying any shoes or clothes or make up for myself until my birthday!!