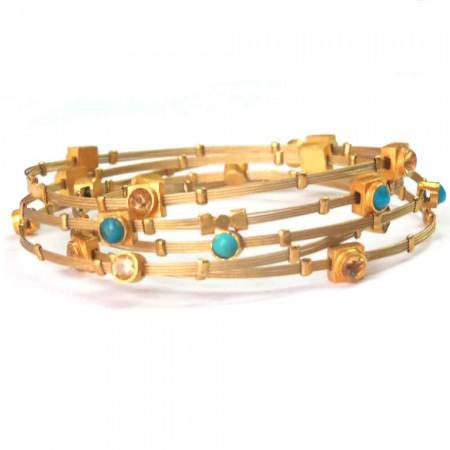 Wishlist: Really swooning over these beautiful bangles.
- PopThreads
Today we're pleased to welcome to our curated showcase of top-shelf India goods Pallavi Bhartia. She completed her formative studies in Silversmithing in India and then went on to pursue Metal Arts at the prestigious Central Saint Martin College of Art, London, England.

Today, she works as an artist and stylist and loves to breath life into rocks, minerals, fossils, metals and other materials which catch her fancy. We're especially smitten with her gorgeous gold plated bangles, embedded with a mix of with a mix of turquoise & citrine, which are sold as a set of five and measure about 2.5 inches in diameter. She also has a set in rose-gold, which are equally stunning, with sparkling sworavski stones.

If bangles aren't your style, she also has some amazing necklaces— take a look at her Agate Necklace or Rustic Bell Necklace and you'll know exactly what I mean…! These are statement pieces, sure to catch eyes, get compliments. Take a look, you're sure to find something stunning!