At a loose end today? Got a spare £1.2million?
Then you could bid on the Highgate House in which Pink Floyd once lived.
According to the auctioneer from Savills, the property – in Stanhope Gardens – has not changed since the Floyd vacated the premises in the late 60s.
Features of the property include mirrored walls and revolving lights
Here's how the BBC reported the story (click the pic):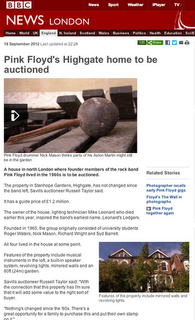 Highgate has a long association with Rock'n'Roll. Sex Pistols manager Malcolm McLaren lived there, shot part of The Great Rock'n'Roll Swindle there and is buried at Highgate Cemetery. Brett Anderson of Suede was a 1990s resident and wrote much of Dog Man Star in a dark and drug-fuelled period of that band's career. And Ringo Starr bought a house in Highgate from the actor Peter Sellers while Rod Stewart was born down the Archway Road.
If you're not free to join the auction today – and don't have a spare £1.2million, then why not wait until tomorrow (Friday) when for a mere £1, 199,991 less (that's £9) you can join us on the Rock'n'Roll London walk down in the West End for tales of Pink Floyd and a cast list of many more. Here's our new Rock'n'Roll London film to whet the appetite…