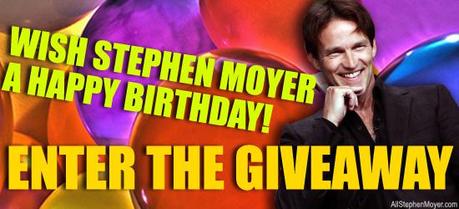 Someone's got a birthday coming up…. October 11th is Stephen Moyer's birthday and you can send the birthday boy your congratulations and win a prize in our giveaway to boot!
Happy birthday to you….. Happy birthday to you….. Happy birthday dear Steve….. Happy birthday to you…..!!!

How to participate
1. MAKE A DONATION: Make a donation of any amount to Facing The Atlantic on their
JustGiving page here. Mention the codes TB4FTA and SMBDAY in your payment note.
2. SUBMIT YOUR MESSAGE: Send your donation reference number and your message for Stephen to [email protected] (keep your message under 300 characters please).
3. DEADLINE FOR SUBMISSION: Send your donation and message before Monday October 9, 8pm EST.
All the messages and wishes will be posted in the birthday post of October 11 on AllStephenMoyer.com and we will send Stephen the link, so he can read the messages….probably from a Toronto hotel room or a tent in the Canadian woods.
But that is not all…… when you make a birthday donation you will also have a chance to win one of the prizes signed by Stephen and Anna that we will be giving away to random donors.
- Starter Wife DVD signed by Stephen
- Entertainment Weekly signed by Stephen and Anna
- Headshot signed by Stephen
All fans world-wide are invited to participate.