All fur coat and no knickers? The River Mersey separates Liverpool from Wirral, they might as well live in their own Republic with their CH postcode because the rivalry is still going strong! Back in 2011 during my first ever to Liverpool, I took the Mersey Ferry over the river from Liverpool to Birkenhead to see where the legendary Lily Savage had originally come from! Why?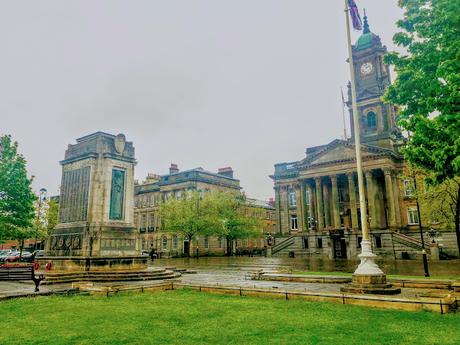 Cue 2022, I decided to take the Mersey Rail to Hamilton Square because it was much quicker! I had already dealt with inclement weather conditions in Runcorn, absolutely I called the weather out, I wouldn't be allowing such raindrops to dampen my day! I already had my sights set on Wirral as soon as I headed under the Mersey River, I wasn't in any rush because I wanted to get those missed photos snapped! Exiting the train at Hamilton Square had me on a mini-mission because I knew a return wouldn't be possible. During 2011, I didn't pay the right attention to Birkenhead after my ferry had docked. Making no mistakes, I felt grateful to be back on that side of the Mersey River because I took the time to soak up Hamilton Square with attention writing those 2011 wrongs right! What was Hamilton Square known for? I saw many 'solicitor-like' buildings standing before me, it looked very administrative? That Scottish designed and built square had more to show me! I wanted to know more! Wirral, I truly wanted to know more, CH!
Standing before me, what was I looking at? The building to the right of the photo above was only Birkenhead's Town Hall! I definitely wasn't present in that moment, the rain had me snapping an appropriate photo without paying much mind. Without judgement, Hamilton Square welcomed me back with a 2022 state of mind, I had given it my time unlike that visit during 2011. I definitely thought highly of the period buildings that mirrored each other around the square. Contrary to belief, Hamilton Square was ever the development project during construction from 1825 to 1847 because Birkenhead lay as a village like settlement, Liverpool had Empire bringing vessels from all over the world by that time! With that 'village description' on the Wirral, really Liverpool had absolutely nothing to worry about! Being the trading powerhouse, maybe Liverpool forgot to ship those undergarments over to Wirral? Maybe that's where the well known insult comes from? All fur coat and no knickers?! Calm down, calm down!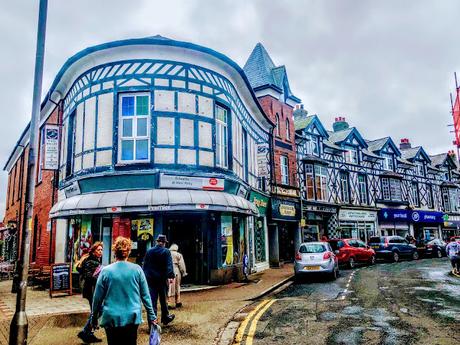 Heading back to the train had me taking a different track, I had originally planned to spend some time in 'New Brighton' because the nearby 'Leasowe Beach' looked absolutely gorgeous! Choosing 'West Kirby' didn't take me a whole lot of thought because it looked refined, there was something about that second seaside setting that peaked my interest for sure. My train journey with 'Mersey Rail' from Hamilton Square to West Kirby definitely allowed me to see a series of scenic views, I wasn't mad about that because the 'rail tunnel' served complete and utter darkness! Golf courses galore passed by me, I wasn't going to lie myself nor to Wirral because a certain view can be encountered on the way to Southport also! Equal measures, I arrived into West Kirby before I knew it! West Kirby had me looking at kitsch shopfronts and classy eateries with one firm glance! I had swerved New Brighton because such 'refined' views didn't strike me during that research period. Wirral had my attention, I owed her that if nothing else! Fancy, eh! 
Respectfully, I had done Blackpool the weekend before or so, I did not want any casinos or chip shops to frequent my Wirral seaside path! Sorry, but I didn't! I felt a classy vibe as I walked along 'The Crescent' with such a vibe being served up to me like a fine hot dinner! I was feeling hungry, I knew that my lunch would need to be something special to say the very least! Of course, I had paid mind towards that Wirral lunchtime choice! Since the lifting of Lockdowns past, I feel an immense gratitude whilst traveling even within the country. West Kirby had certain charms to admire, maybe Pre-Pandemic I wouldn't have batted an eyelid, I actually know that I just wouldn't! Making that 2022 comeback to Wirral had me feeling like all of the juice from the lemon had to be squeezed dry! A friend had mentioned that him and his family had spent their childhood summers in West Kirby! The morning had been busy, the afternoon had so abruptly arrived and with that said, I needed to eat some lunch! 'The Crescent' looked 'Tudor!?'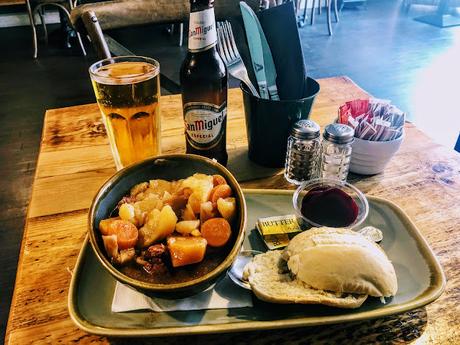 Finding 'Hannah's' in West Kirby had to be done, I had noted from Trip Advisor that the 'Scouse' served was worth taking the train from Liverpool to that part of Wirral. With that said, I did just that! I really liked the cosy vibe that 'Hannah's' served up! Of course, I ordered 'Scouse' because even though it was simply a stew, the history behind that dish meant more to me than anything else! I was all about the experience during that Wirral moment in West Kirby. Being just over the water from Liverpool, the 'Scouse' accent was derived way back when the 'Norwegian' sailors would docks their Nordic fishing vessels along the busiest parts of the Mersey River. They would mix certain foods that would become a 'stew' of sorts, originally known as 'Lobskause'. Generally 'lamb' was a cheaper meat to buy, so many earlier variations of what later became 'Scouse' were traditionally made using 'lamb' until 'beef' became financially accessible. Of course, either side of the Mersey River there's a sense of similarities regarding accents. Hey, this all connects! Please! 
Of course, back to those similarities because both sides of the Mersey the 'Scouse' accent can be heard but with a different tone. People in the Wirral maybe speak slower, with a breath taken between words, whilst those across the river maybe speak with a quicker pace. There's a lot of politics surrounding the people and customs from both Liverpool and Wirral but they share something wonderful and that is culture! Scouse is more than just a stew, it is an accent and a way to refer the people of Liverpool as 'Scousers!' My bowl of 'Scouse' tasted beautiful, it was flavoursome and with the buttered bread roll, it was to die for! Quite literally! I chose to drink a San Miguel because when on a trip it would rude not to! For afters I enjoyed a slice of walnut and coffee cake, I did ask for carrot cake but no harm was done! I don't usually eat in such comfortable and kitsch settings but I hadn't tried Scouse before and I wasn't about to miss out! Somewhere in politics, Scouse is a dish that bridges the gap between Liverpool and Wirral! Yes!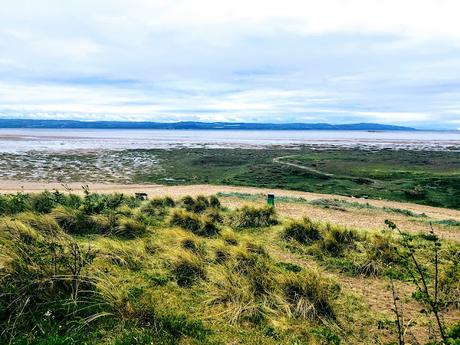 Longing to be 'Beside The Sea', I found West Kirby Beach quite easily from 'The Crescent'. I definitely didn't have the correct shoes on for the beach but I didn't care, I still wanted to be a part of that beach moment! The weather certainly wasn't serving up 'Sunshine Dreams' but the rain had thankfully decided to stop by the time I had made it to the beach! I loved the 'grassy situation', I embraced the fact that 'Wales' stood on the other side of the waters! It was a conflicting moment because the waters that were in front of me weren't strictly the 'sea!' I was actually overlooking the passage between the 'Dee Estuary' and the 'Liverpool Bay. It was great to be near the water not long after my 'Irish Sea' view that I had captured in Blackpool! I lived for West Kirby's calmer settings, it didn't scream 'New Brighton' one bit! I am sure that people love 'New Brighton' but I just wasn't sold on that part of Wirral, that was just so! Hands down, West Kirby and the nearby waters of the Liverpool Bay impressed me! A meeting of waters? Yes!
Breathing in cleaner air made me feel miles better, no industrial matter faced me during my time spent on that Wirral Beach! I loved seeing people going about their business, honestly they had such a great place to walk along, beating any kind of concrete or tarmac pavement! Real talk, I checked my map to see where in Wales I was facing towards! After looking at a faithful 'Google Map', my best bet was that the Welsh town of 'Ffynnongroyw' stood dead in front of my Wirral, England location! Call it what you want, I loved my 'international view' with much gusto! Sure! Truthfully, Wirral sure had kidnapped me for the day, transporting me on the Mersey Rail to Birkenhead's Hamilton Square to then discover the 'beachside' town of 'West Kirby' for a spot of 'Scouse!' A full-bodied experience? Yes, I do think! Staring Wales dead in the face, I felt content with my brief beach ramblings before it was time to head back to Liverpool! Regardless of the rivalry and the differing postcodes, people need just to get along! Wirral, keep on enunciating! 
Postcodes And Councils Mean Nothing To Me! 
Desperately Seeking Adventure