The weather has been really hot and I am getting migraine again.   Really miss that 20

°C+

 weather during my break.  




While I was in the market, I saw some really nice winter melon.  Remembering that it has a cooling properties, I got some home and turn it into a dessert for tonight's dinner.




Here is my 

Winter melon with wolfberries sweet soup 冬瓜枸杞甜水.   I have adapted this from one that I tasted in a party many years ago and I like it.  This time round, I added wolfberries aka goji to sweeten it further.  
Just love it being served cold.  A nice cool dessert to end the night.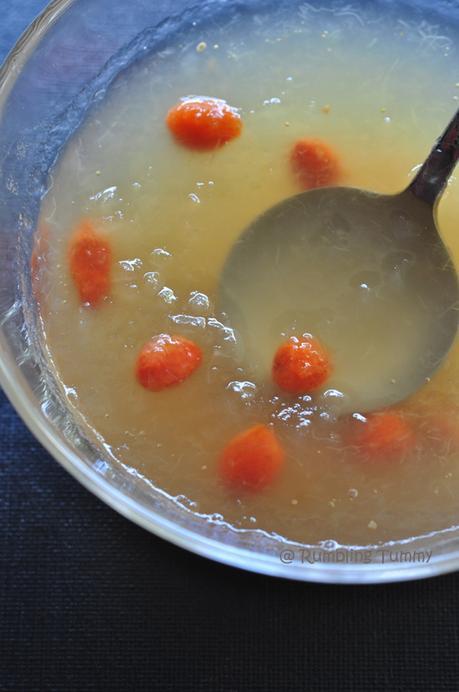 What you need:
2kg wintermelon (deskin and deseed)

1l of water




rock sugar to taste (I  use raw sugar)
1 handful dried goji


4 -5 pandan leaves




Method:

Cube wintermelon to 1"X1".

Add water and pandan leaves and boil for 30 mins.

Add rock sugar and adjust according to taste.  Continue to simmer till sugar melted.

Using a hand blender, blend the wintermelon.

Add in goji and bring it to a simmer for 10 mins until goji softens.


Serve either hot or cold.

If you have enjoyed this post by

Rumbling Tummy

, be sure to follow this Rumbling Tummy on

Facebook

, Instagram, Pinterest, Twitter and

Google+

.