Planning a winter wedding? Or undecided if it's the perfect season for you?
I'm sat here writing this with a winter wonderland outside my window, we've already built a snowman and I've enjoyed a hot chocolate to warm me back up again!
Winter weddings are becoming HUGELY popular and I can totally see the appeal, even as someone who likes to be warm!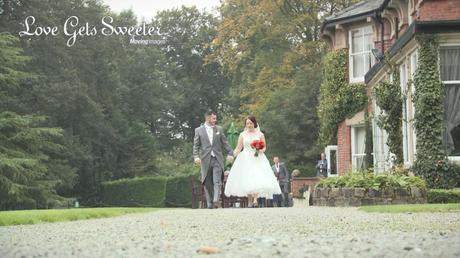 There's no pressure on whether it's going to be a nice day or not, if it is then it's totally a bonus!
Whereas Summer weddings we tend to feel disappointed if it's a rubbish weather day (which seems to be the case for every August ever since we got married in 2009 haha).
There's a real warm and cosy vibe about a winter wedding too, don't you think?
And when it comes to color schemes there's nothing more beautiful than picking deep, rich and warm color combinations and embracing the winter vibes.
Stacy and David's Winter Wedding Video – Bartle Hall
So, let me share a few things to consider when you're looking in to planning a winter wedding…
Picking The Perfect Winter Wedding Venue
It's all well and good picking somewhere with incredible grounds for your wedding photos BUT, it's totally worth considering the indoor space too.
Find somewhere that's got some lovely indoor areas where you could potentially do your family and friends group shots. As much as you may be willing to brave the cold and wet weather your guests may not be as excited by that! It's always good to have options and you can work with your photographer to have a 'wet' and 'dry' photo plan for the day.
Most photographers I've worked with (and myself too) will always keep a weather check going. This means that although it may be peeing it down when the photos were scheduled if it does suddenly stop then they'll make a big fuss and get you outside for a few too, especially if they know that's something you were keen on!
Which leads me on to…
Your Wedding Photographer and Videographer
With winter comes less light and more challenges for both photographers and videographers.
Some really embrace the challenges, some thrive on being able to get creative in low light. When doing your research check out their winter weddings and see how they dealt with the fun of bad weather and dark venues. Even ask them for examples and get an idea of how they work on a winter wedding.
Mick Cookson always produces some of my favorite winter wedding photography around Cheshire, Manchester and Lancashire whatever the weather.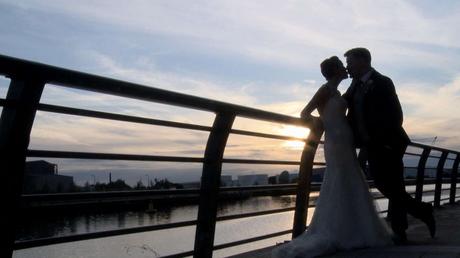 He's always full of little gems of wedding wisdom for his couples, like…
"Get married earlier if poss to take advantage of the winter light…." He's the best at making the most of that light! Creative photographers LOVE amazing light, you'll find yourself talking about it after the day because they get you all excited about it too!
Getting married a little earlier can mean you have more available light before and after the wedding to enjoy some time for both family photos AND couple shots with just the two of you.
In the middle of winter it can be dark by 4:00pm so it's worth chatting with your Venue, Photographer and Videographer to come up with a good timeline/schedule of the day that allows that time for photos before it's dark.
You can then have some later on before your evening reception, so it gives you time to enjoy both daylight and that lovely evening light too (which you can miss out on with a summer wedding when it's dark AFTER the photographer and videographer have left after the first dance!).
Below is a wedding I worked on with the ever so talented Mick (you'll see a glimpse of him during the couple portraits around Media City!)
Katie and Paul's Wedding Video – On The 7th Members Club, Media City UK
And Ioan at Celyennen is right when he says…
"Summer or Winter, it's still a wedding. You still get to marry your best friend in front of those who matter most to you. Have fun! Enjoy every bit as much as you can… and bring an extra pair of shoes and something to keep you warm if you want great shots outside."
Winter Wedding Ideas To Keep You Warm
When it comes to winter weddings it's good to consider fun ways to keep both you and your guests warm (warm guests are happy guests!).
Chrissie and Matt were married at Nunsmere Hall on Boxing Day. Instead of a champagne and canapes reception they opted for festive mulled wine and mince pies, it went down a treat with all the guests!
Chrissie and Matt's Winter Wedding Video – Nunsmere Hall
Not a drinker? What about a warming hot chocolate with fresh whipped cream? Or warm gooey brownies with a fresh dusting on icing on top (that always reminds me of snow on a cold day!).
It's also worth considering what you are going to wear? It's nice to enjoy a few shots outside showing off your amazing wedding dress BUT in -5 temperatures (that's what it is today!) you'll quickly turn blue and struggle to control your shivering which won't exactly look great on the photos or video!
What about a pretty faux fur shrug? A wedding shawl or cape? Even getting a bridesmaid to carry your big coat around with you so you can whip it off for a few photos before getting warm again?
Don't forget a pretty wedding umbrella, ideal for if you want to brave the rain on a gloomy day!
Mikki and Mark's Wedding Video – Broadoaks Country House Hotel, Lake District
And speaking of bridesmaids. Having a few coordinated wedding shawls or pashminas is a nice way to keep them warm and happy. They can even use them after the day!
Then if you're feeling really nice, a basket of blankets for your guests is a nice way to keep them warm should they want to sit out of the way by the fires or even head outside to watch the stars (or have a cheeky cigar).
If you're like me and hate the cold it's hard to will yourself to brave the outdoors (and snow/wind/rain/hail…even in summer, it is the UK after all) when you're in a cosy venue with roaring fires…
BUT
It is so worth it for not only a bit of time to enjoy as newlyweds but also to get photos and video that you'll LOVE seeing again and again.
It's those moments of 'come on lets go!' that bring out the best images I can assure you!
Keri and Tom's Winter Wedding Video – Mitton Hall, Clitheroe
Has that helped you decide if a winter wedding is for you? Or maybe it's confirmed it's exactly what you're after and you got some extra tips too?
I LOVE winter weddings so if you'd like to chat to me about your winter wedding (or potential wedding) I'd love to hear from you. You can head over to my contact page or email me on [email protected] or even call/text on 07985445064.