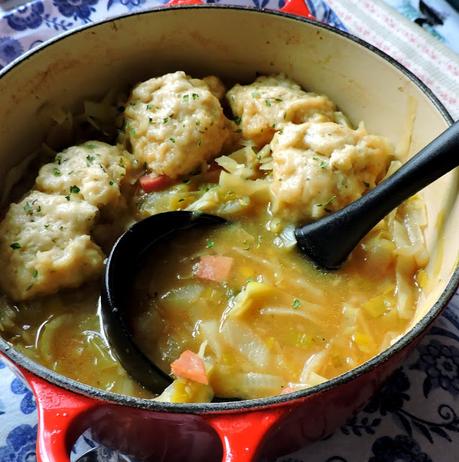 We sure have been having some bitterly cold weather this past week. I believe it was -10 out there this morning. I have not experienced temperatures such as this in over 20 years!  This is the kind of cold that really makes you appreciate Winter soups and stews.
Food that warms your belly and soul!  There is nothing like a hot bowl of soup to do just that and this Winter Vegetable Soup is one of my favourites!  And not the least because of the dumplings! 
Soup AND dumplings?  Count me in!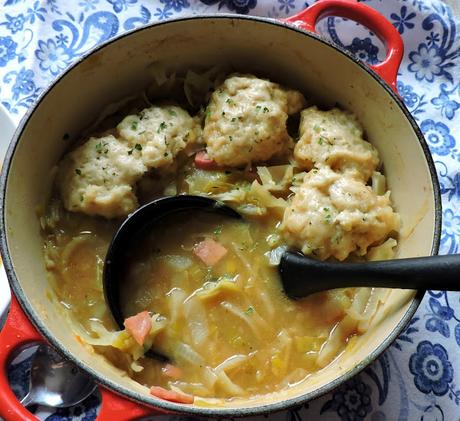 Especially when you are talking about CHEESE dumplings!  I am crazy about cheese!  Its kind of ironic actually.  I was not a great cheese lover when I was growing up.
I only liked processed cheese. If it came wrapped in plastic or in a jar, or a bright yellow cardboard box, I was all for it!!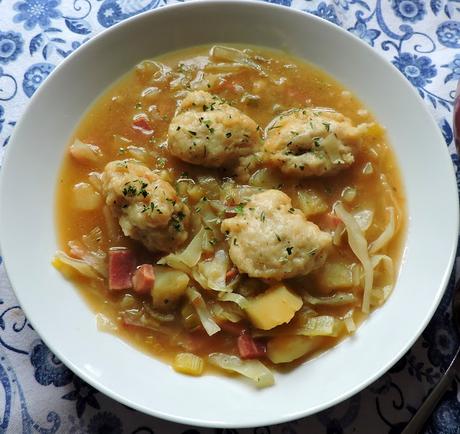 Mom used to buy a block of cracker barrel cheese every Christmas. My sister would love it if mom offered her a slice of it. I couldn't even be tempted!  
Once I got older and married I would buy the odd bit of cheese that was stronger than processed cheese, but only for cooking. I did like smelly sock though which is the endearing little name we gave to parmesan cheese, but even that came in a green plastic tube. 
I was such a cheese chicken! Scared to try anything new.  And then  . . .  I moved to the UK and learned to love, Love, LOVE cheeses. All kinds of cheeses. I have quite an adventurous palate now when it comes to cheese!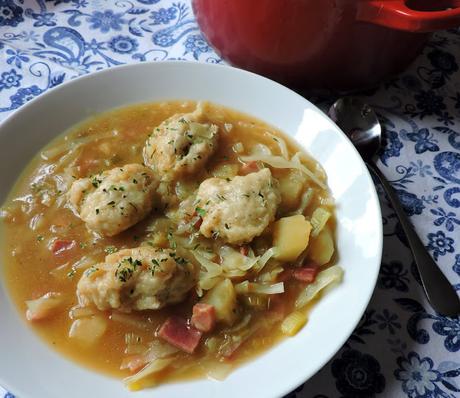 I had some ham left from the boiled dinner the other day so I decided to make us a delicious soup with it.  This is a beautifully hearty soup that makes great use of the Winter vegetables which are so abundant at this time of year.
I cut the ham into small cubes and browned it first in a tiny bit of sugar until it was golden brown. It really brought out the smokiness of the ham!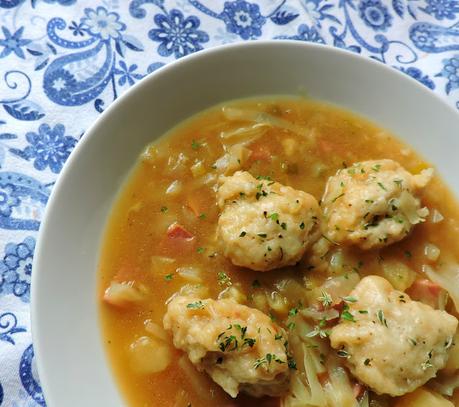 There are a few different vegetables in this soup.  Leek, potato, cabbage, onions. I didn't have any carrot, or I would have used some of that also. 
I did use some garlic.  Garlic wasn't something we had much of when we were growing up, but I love and appreciate it in cooking as an adult.  It is a vital ingredient in my kitchen!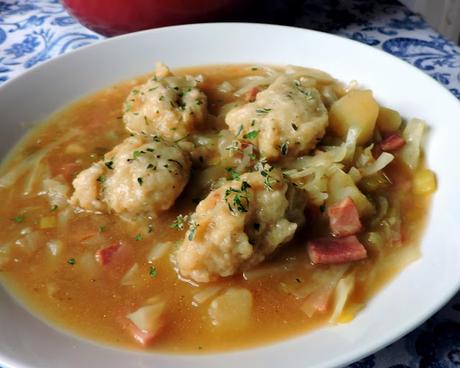 I had always dreamed of growing my own, but I guess that is not going to happen now. Not unless I can get my sister to let me plant some here in her garden. She might if I promise to share it with her.
Where I lived in Chester, we were surrounded by leek farms.  They would be harvesting them about January on and the air would be filled with the smell of leeks. Leeks are such a versatile vegetable and work really wonderfully in soups and stews!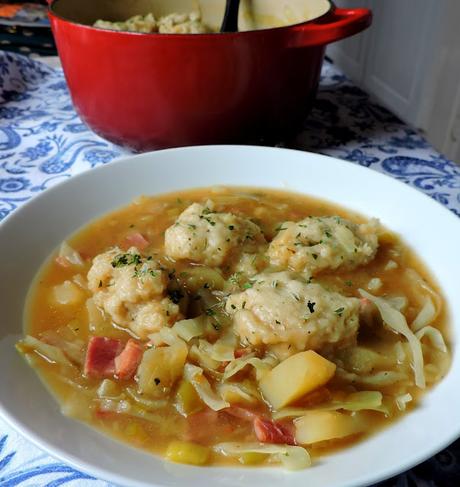 They can be dirty and sandy however, so do make sure you clean them really well.  I usually lop off the darker green tops (save them for stock) and then cut a slit down the length of them.
It is very easy then to rinse them clean under cold running water.  Nobody wants anything gritty in their soup unless it is supposed to be there.  The leeks get sliced and then sautéed in the same pan you cooked the ham in along with the onions and the garlic.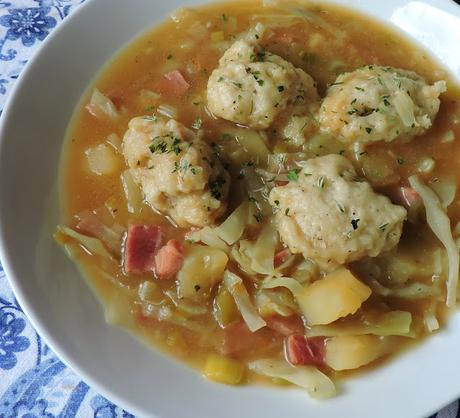 This needs to be done over a low heat. You do not want them to catch or brown in any way.  This is called "sweating."  It really does enhance the natural flavours and sweetness of these delicious aliums. 
You don't want to rush this step.  Slow and steady wins the race and gives you a much better flavor.  Don't on any count burn the garlic. Burnt garlic is very bitter.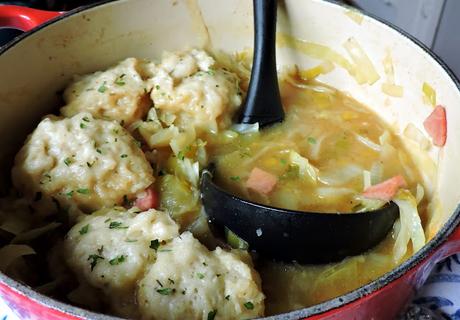 Once they have softened nicely and developed their flavor potential you will be adding a bit of flour. This will help to thicken the body/stock of the soup.
I have used two kinds of stock in this.  Some chicken stock and some ham stock. I use stock cubes.  Yuo can use all chicken stock if you wish. Its not always easy to find ham stock. You could also use vacuum packs of stock if you can get them.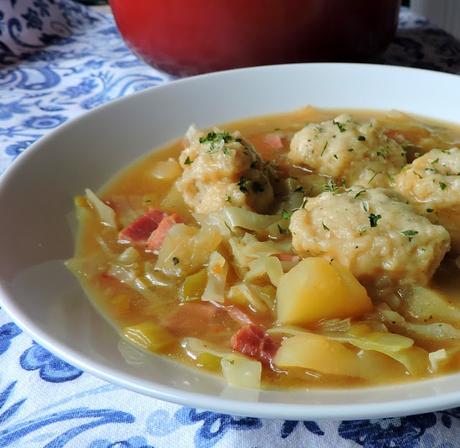 I find they are a lot lower in sodium than the stock cubes, so are probably a much wiser choice. The stock gets added in parts.  The ham stock goes in first, and then the chicken stock is added a bit later on.
You need to cook the leek, onion and garlic in the stock for about half an hour. The soup will be somewhat thickened.  You can then add the potato cubes.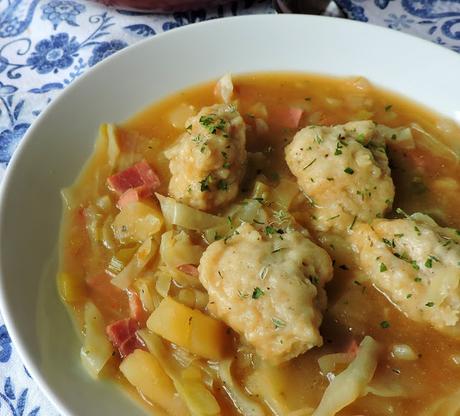 I peeled the potato and chop it into bits no larger than 1/2 inch square. Use a potato that won't easily fall apart in the stock. Once that has softened somewhat it is time to add the cabbage. 
I use a white cabbage and finely shred it. It won't take so long to cook then.  I always shred my cabbage by hand for things like this and for coleslaw.  The texture  from hand shredding is much nicer than you get if you grate it.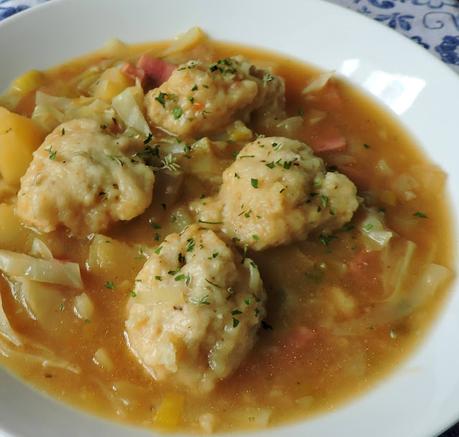 Grated cabbage would dissolve and you don't want that. You want it to retain some of it's texture! When you add the cabbage to the soup you can add the chicken stock and return the ham to the pot.  You also need to add some vinegar.  
Don 't worry about the vinegar. It will not give the soup a sour flavor. Trust me when I tell you it totally works here. While this simmers you can put together your dumplings.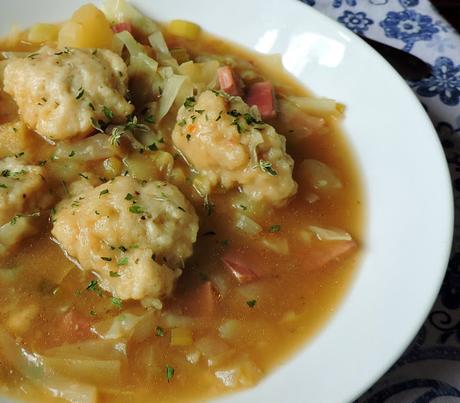 These dumplings are nice and buttery and have a beautiful flavor. You will need self raising flour, but don't worry, I tell you in the recipe notes how to make your own! Its easy peasy! A quantity of butter is rubbed into the flour with your fingertips. You want it to have the consistency of fine bread crumbs.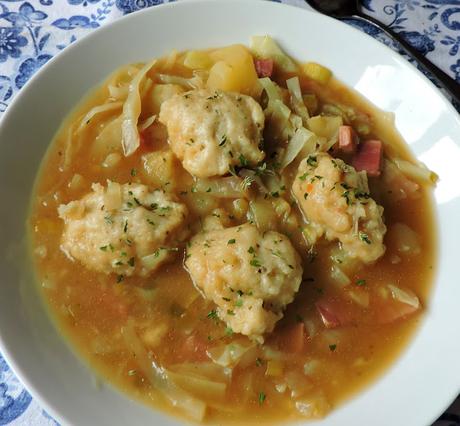 You then add some chopped  thyme leaves as well as some finely grated cheddar cheese to the flour/butter crumbs. Mix it all well together.
I always use a strong cheddar for things like this. It has a bold flavor that won't get lost amidst the other flavours of the soup! You want the dumplings to actually taste like cheese!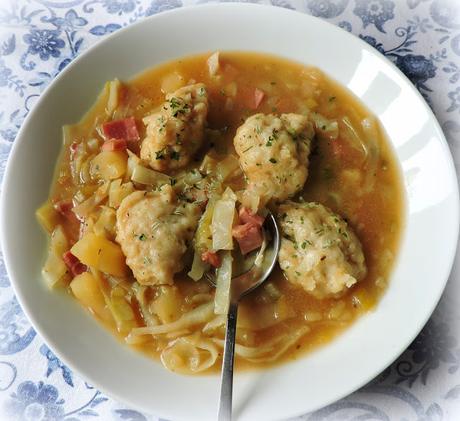 Some water is then added until you have the right consistency for dropping the dumplings. You want them to have some body. They should not be thin or watery in the least.
Make sure your soup is bubbling nicely. I use two spoons to shape and drop heaped tablespoons of dumpling mixture into the hot soup.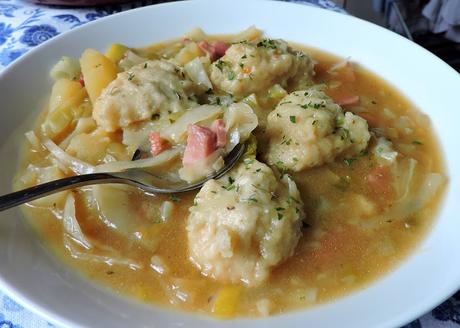 That's it, cover the saucepan (no peeking!)and about 8 to 10 minutes you will be rewarded with one of the most delicious bowls of soup you have ever eaten!  Trust me on this! 
This is so, so, SO good. A nice hot bowl of this with a few of those fabulously tasty, light, tender dumplings floating on top and you will be in Winter Food Heaven!  This lovely soup is destined to become a family favourite! I promise you!
  é  
Winter Vegetable Soup with Cheese Dumplings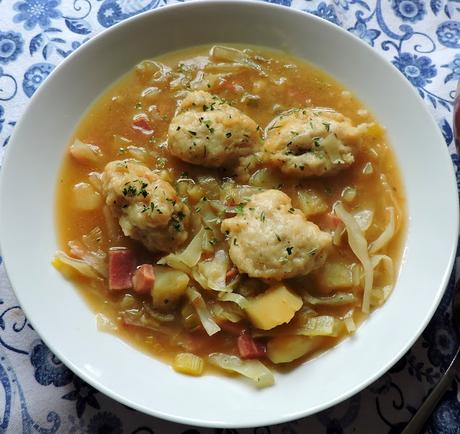 Yield:
6
Author:
Marie Rayner
Prep time: 40 Min
Cook time: 1 H & 10 M
Total time: 1 H & 50 M
A deliciously hearty soup filled with plenty of winter vegetables. The cheese dumplings are a tasty bonus!
Ingredients
For the Soup
1/4 cup (60ml) vegetable oil (1/4 cup)
3/4 pound (350g) smoked ham, cut into cubes 
2 tsp soft light brown sugar
2 onions, peeled and thinly sliced
2 leeks, trimmed, washed and thinly sliced
3 cloves garlic, peeled and minced
1 TBS plain flour
6 cups (1 liter) ham stock 
2 cups (480ml)chicken stock 
black pepper to taste, coarsely ground
3 medium potatoes, peeled and chopped
1/2 medium cabbage, finely shredded
1 TBS white wine vinegar
For the Dumplings:
2 TBS cold butter, cut into small bits 
2 cups (280g) self raising flour (see notes)
2 ounces (60g) finely grated cheddar cheese 
2 tsp finely chopped fresh  thyme
1/2 cup (120ml) water 
Instructions
Heat 1 TBS of the oil in a large saucepan. Add the ham and sugar.
Sauté over high heat, stirring continuously, for about 5 minutes, or until just golden. 
Remove with a slotted spoon and drain on paper towels. Add the remaining oil along with the leek, garlic and onion.
Reduce heat to low and cook for about 15 minutes, stirring occasionally to make sure they don't catch, without browning. Stir in the flour and cook for one minute. 
Remove from the heat and add the ham stock gradually. 
Return to the heat and bring to the boil, stirring, then reduce to a slow simmer and cover. Cook for about half an hour. 
Add the potato to the pan and simmer for about 10 minutes. Add the chicken stock, ham, cabbage and vinegar. Season with black pepper. 
Cook for a further 10 minutes while you make the dumplings.
Sift the flour into a bowl. Add the butter and rub it in with your fingertips until the mixture resembles fine bread crumbs. Stir in the cheese and thyme. Stir in the water to bind the mixture together. 
Drop by heaped TBS into the hot soup. Cover and cook for 8 to 10 minutes until the dumplings are cooked through, plump and look dry on top.
Spoon into hot bowls and top each serving with several dumplings.
Notes:
Make Your Own Self Raising Flour:
You can make your own self raising flour by adding 1 1/2 tsp of baking powder and 1/4 tsp of salt to every cup of plain flour.
Did you make this recipe?
Tag @marierayner5530 on instagram and hashtag it #EnglishKitchenCreated using
The Recipes Generator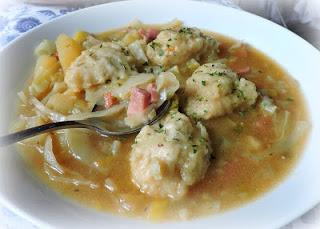 This content (written and photography) is the sole property of The English Kitchen. Any reposting or misuse is not permitted. If you are reading this elsewhere, please know that it is stolen content and you may report it to me at: mariealicejoan at aol dot com Thanks so much for visiting. Do come again! 
Follow my blog with Bloglovin