Here we are: the last Thursday of December …. the LAST THURSDAY OF 2016!!!  
All month long PPMeow! teamed-up withStyleCassentials to bring you another collaboration featuring some of the Winter Trends for 2016 Holiday Season!!!
To wrap up our December long series we're putting our own spin on wearing VELVET!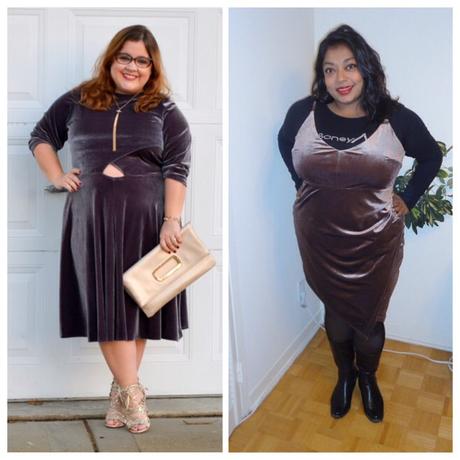 As luxurious as velvet it… I've stayed away from it so far, as I just haven't found a piece that I liked myself in.
The velvet slip dress was the "IT" item this Fall.  So I kept an eye out for one that might work for me and my bod.  I ordered one from ASOS way back at the beginning of this month – but it has never bothered to arrive.
And then I found this one on the Forever21+ Instagram page: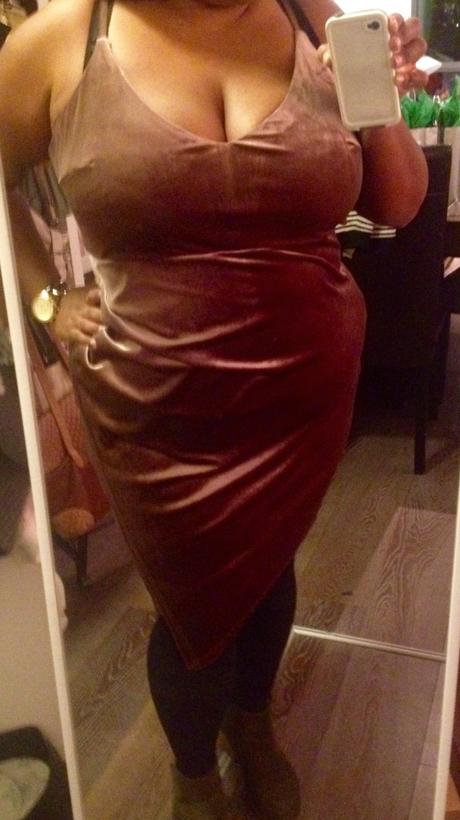 Remember Carrie Bradshaw's "the naked dress" from SATC?   That's basically how I felt when I first tried this dress on upon its arrival in my mail.😮
This dress has a fantastic hemline, with a bit of ruching in the mid-section to help mask any tummy troubles from that 2nd helping of dinner or in my case a cheese fondu party.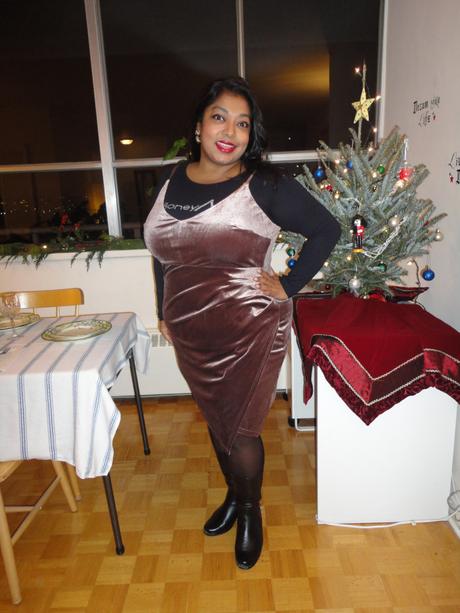 I didn't feel comfortable having the ta-tas all out-and-about in this brown/pink curve-hugging velvety frock for holiday house parties among married and coupled-off friends.
Sooooooo I wore a thin long-sleeved band tee underneath it + sheer hosiery + mid-calf length black boots … and BAM!
Holiday Ready rocking this Winter Trend!❤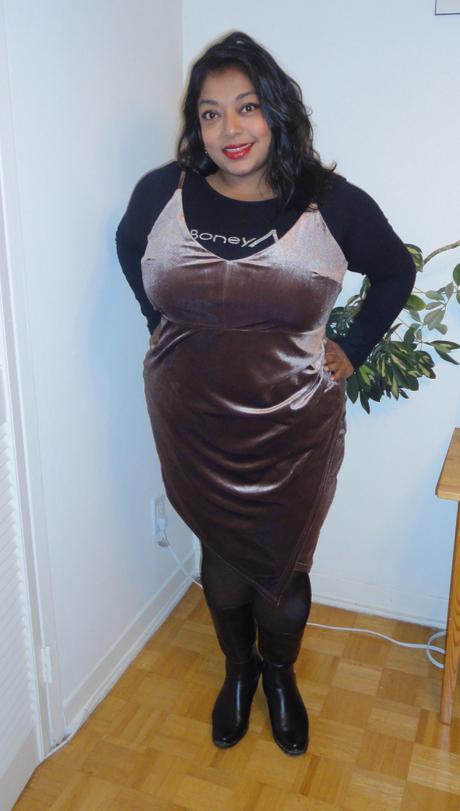 I've styled this velvet dress in 3 different ways throughout December …. which way do you like it best?
How I Got The Look:  Velvet slip dress, Forever21+; Bomber stripped jacket, Old Navy; Boney M tee, super old from my radio days; Black mid-calf boots, Steps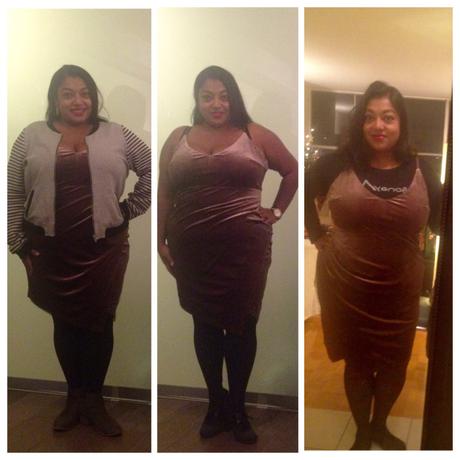 Cassie is wearing this high neck, long-sleeved gray velvet frock….with a little cutout.  Her gold accessories, purse and scrappy shoes really add to her overall glamorous look!
Head over to Style Cassentials for all the details on Cassie's winter trend of velvet in her outfit.  Or her Instagram here. Or visit her Facebook page here.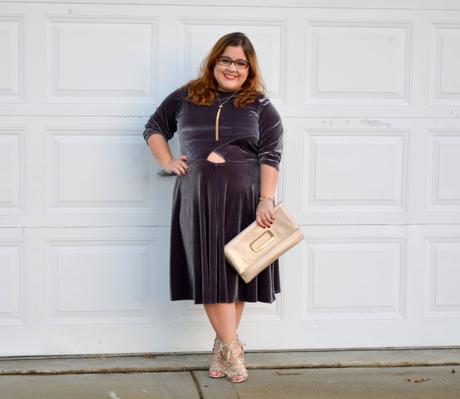 There you have it!!!   The entire month of December with a featured Winter Trend!!!
We hope they bring you some fashion inspiration to try yourself this month – maybe for NYE😉
To see how we've put our own unique twists previously this month click on the below links:
Did you have a favourite?  Tell us in the comments below!
Have you LIKE'd the Petite Plus, Meow's Facebook Page yet?