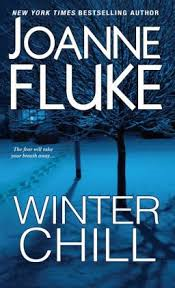 Winter Chill by Joanne Fluke is a Kensington publication released in August 2013.
I received a copy of this book from the publisher and Netgalley in exchange for an honest review.
When a tragic accident leaves Marian's daughter Laura dead and her husband Dan in a wheelchair, Marian can no longer function normally. The only times she feels happy is when she senses her daughter is near by. When she begins finding notes from her daughter, she is convinced her daughter is still with her. Initially, Dan is so relieved to see Marian happy that he actually encourages Marian's feelings. But, Dan could never imagine the events that would unfold as time goes on and their small town begins to have a rash of "accidents" mostly involving children.
Are these really accidents or is someone is this small community killing children?
For those that know Joanne Fluke as the author of culinary cozy mysteries, this one may be a really big shock. This is a very dark psychological thriller. I do not ever begrudge an author that tries to write something different from what they normally do. However, you should know that this is NOT like the light cozy mysteries you are more familiar with. This is really a good book for a cold winter night. The author puts you in the middle of the harsh Minnesota winter which gave the book an atmospheric tone.
I didn't really know what to rate this one. Again, I was stuck in that frustrating limbo between the 3 and the 4 star rating. So, I will compromise with a 3.5 and give this one C+.