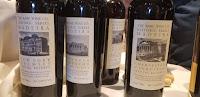 While attending a recent
Wines of Portugal
tasting, I was intrigued by The Rare Wine Company's display of Historic Series Madeira - representing styles favored in several American cities. From a historical perspective, Madeira was quite popular from the Colonial era up until the early 20th century. And I learned at this tasting and through these wines, that cities preferred Madeira based on the dominant grape or, in the case of Baltimore, a particular style:
Rainwater
. 
This style is paler and more delicate than other Madeira styles. In his book, Madeira, The Island Vineyard by Noel Cossart & Mannie Berk, Noel Cossart asserts that a barrel of Madeira was left on a beach waiting for shipment to the American colonies. The barrel somehow lost its stopper and was watered down by overnight rain and thus, inadvertently creating a slightly more refreshing style. This style became a favorite in Colonial America. Cossart, by the way, was the fourth, and final, member of his family to manage Cossart Gordon & Co, before economic conditions forced him to sell the firm's assets to the Madeira Wine Association.
According to The Rare Wine Company, "In 1902, that city's greatest Madeira connoisseur, Douglas H. Thomas, called Rainwater the highest standard. And the absence of Rainwaters in a 1900 New York auction prompted one merchant to speculate that Baltimore connoisseurs thought so highly of them that they bought them all up and none reached New York." Unfortunately, in the early 20th century, very sweet and cheap Madeiras entered the market labeled as "Rainwater" which ruined the reputation of the traditional style.  
In 1998, The Rare Wine Company began a project to recreate a series of historic Madeiras with the Baltimore Rainwater based on examples of very rare Rainwater imported into New York City by Robert Benson in the 1820s. Winemaker Ricardo Freitas, of Vinhos Barbeito, "started with a base wine that was 80% Verdelho, made up of two lots ranging in age from 8 to 13 years. Young Verdelho was a perfect starting point, not only because of its delicacy and minimal sweetness but because Verdelho would have been the most common component in the early Rainwaters".  And "for a greater sense of age and also a bit more body, but without increasing the wine's sweetness, Ricardo added two different lots of old Tinta Negra Mole. Prior to entering the Baltimore Rainwater blend, each of the components was aged (like all of our wines) by the time-honored Canteiro method."
The final Rare Wine Madeira Rainwater Historic Series Baltimore blend range consists of 60-70% Verdelho, 20-25% Sercial, and 10-15% Tinta Negra. For a supposedly lighter style, this wine is very complex with ripe peaches and pears, dried fruits, nuts, and a lively finish.  Excellent. 
Wines of Portugal Madeira Series:
Part I: An Overview