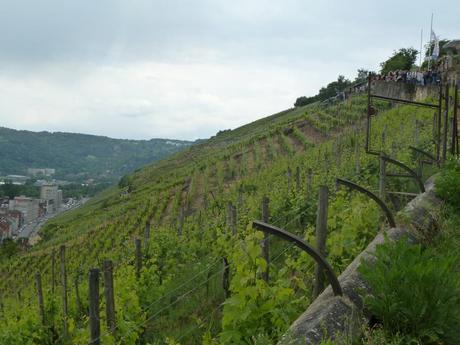 Germany is home to several different wine growing regions and I am fortunate enough to live in one of them.  Wine lovers will also be pleased to learn that wine walks are a common occurrence in Germany.  There are different types of wine walks.  There are the self guided wine walks that can be done at anytime, stopping at besens (see Hungry or Thirsty in Germany?  Look for a Broomstick) along the way, or organized wine walks which occur on a scheduled day.  On an organized wine walk, you're served wine right in the middle of the vineyard, or avoid the lines and just buy a bottle of wine, sipping it at your leisure as you stroll through the vineyards as we did on the Esslingen Wine Walk (a small town near Stuttgart).  Somehow wine tastes so much better when you're sipping it in the same vineyard where the grapes were grown.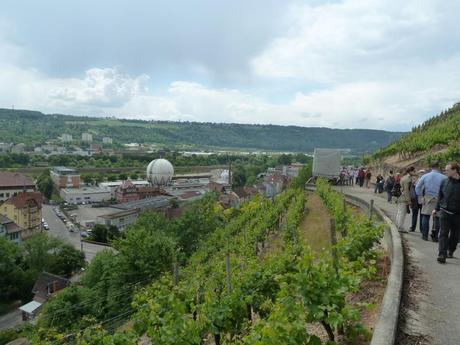 Organized wine walks are popular in Germany so there are likely to be a lot of people there as there was at the Esslingen Wine Walk.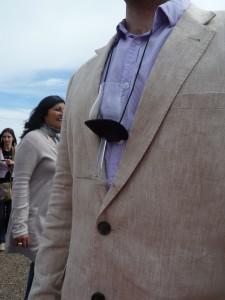 The ultimate wine holder on a wine walk.
Have you ever done a wine walk?  Which type of wine walk do you prefer?
For more info on wine walks and wine travel in Germany see The German Wine Institute Wine Travel (some pages in English, some only available in German) and Wine Walks in Stuttgart (a brochure in English that includes a map for self guided wine walks).
This photo has been submitted as part of Travel Photo Thursday, a weekly travel photography showcase organized by Nancie at Budget Travelers Sandbox where you can see more travel photos from around the world.