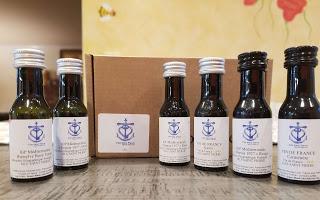 IGP (Indication Géographique Protégée)
is a French wine category that superseded Vin de Pays in 2009 and lies between
Vin de France
and
Appellation d'Origine Protegée (AOP)
on the wine quality scale.  According to Wine-searcher.com, "the IGP category is intended to benefit both consumers and wine producers. It provides consumers with clarity about a wine's provenance, while producers are empowered to make wine outside the constraints of traditional AOC laws. The most obvious freedoms are the higher permitted yields and a more comprehensive list of approved grape varieties".
The Méditérranée IGP covers wines that are produced over a large swath of territory of southeast France encompassing Provence wine region, the island of Corsica, as well as smaller areas in the Loire and Rhône valleys. Most vineyards can be found in the hills and valleys of the Alpine foothills as the higher altitude provides an excellent ripening situation with plentiful sunlight and cold nights. A large proportion of Méditérranée IGP wines are rosé made in the typical Provençal style -- lightly pressed. 
One of our Hopwine packages was sent by Isle Saint Pierre, an almost hundred-year-old winery that was founded by Pierre Chassaing in 1927 as the southernmost vineyard in the Rhône valley. As the name suggests, the vineyard and winery are located on an island in the Rhône, just 15km away from the river's mouth. Today, Patrick Henry, Marie-Cécile, and their children (third and fourth generations of winegrowers) farm 230-hectares planting a range of grape varieties unhindered by AOP regulations. These include Merlot, Chardonnay, Petit Verdot, Carménère, Muscat Petits Grains, Arinarnoa, Sauvignon Blanc, Tannat, Vermentino, Colombard, Malbec, Sangiovese, and Soreli. 
Some of these grapes were represented in the Hopwine package,  particularly in the IGP Méditerrannée « Depuis 1927 » Rosé - 2020 which is a blend of Cabernet Franc, Merlot, Arinarnoa, Petit Verdot, Tannat, Cabernet Sauvignon, and Syrah. I could go with a full 750ml of this wine at any time. The light color is deceptive as the wine provides a creamy sour cherry flavor. 
The IGP Méditerrannée Ripisylve Rosé Tannat - 2020 was just as compelling showing a candied fruit aroma leading to the same creamy but more fruit-forward wine. 
Another complex blend arrived with the IGP Méditerrannée « Depuis 1927 » Blanc - 2020, comprised of Gewurztraminer, Chardonnay, Sauvignon, Rolle, and Muscat. On the first impression, I wrote "bursting of sunshine" - which stayed consistent from nose to tail. 
The final IGP Méditerrannée in the packages was the IGP Méditerrannée « Depuis 1927 » Rouge - 2020, another complex blend of Cabernet Sauvigon, Merlot, Petit Verdot, Carménère, Arinarnoa. This last grape, and also found in the rosé, was bred in 1956 by crossing Tannat with Cabernet Sauvignon. The wine was my favorite, showing earthy dark cherries, mint, a full mouthfeel, and creeping tannins. Very nice. 
One last note, although not a Méditérranée IGP and subject of this post, but if you are intrigued by creamy lemons look for the Vin de France Soreli - 2019.