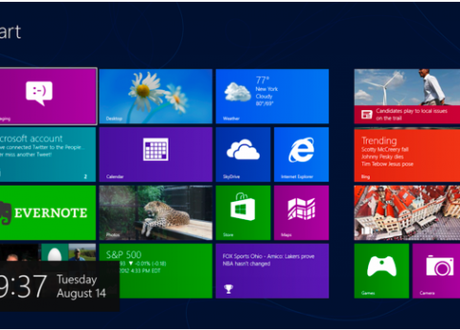 A screenshot from Windows 8
The background
Microsoft has made the "release build" of its Windows 8 operating system available – to developers, and IT administrators.
So what's it like? Well, it's a hyprid desktop / tablet system. It's already had something of a mixed bag of reviews. It will be available for general release on the 6th October. Commentators are saying that it's not so different from the OS that was previewed last year (read about it here on Periscope.) And, since Microsoft has come to the tablet world relatively late, will the company be able to make a dent in Apple's fortunes?
 Windows 8 has a lot to like
Tim Anderson in The Guardian said that the release version isn't "radically different from the previews." New things include: "a blander, squarer look more in keeping with the Modern UI." The store is "coming to life," with a few "paid-for apps." Icons for apps are now bigger, with less wasted space; plus bugs and performance have been fixed. As a whole it feels "solid and brisk." There's faster disk access; faster "resume from hibernation"; "much faster graphics and text", and – you guessed it – faster Wi-Fi. So if "you can learn to live with occasional Modern UI inconveniences, it is hard to go back to Windows 7."
Microsoft is late to the tablet game, but shouldn't be dismissed
Anderson also said, however, that whilst the Modern UI was good for touch users, Microsoft had come to the tablet game "very late", so app developers would hardly rush to transfer to it. It's "bold and different, and underpinned by solid technical improvements." It shouldn't be dismissed.
Dual operating system is mixed bag
At least, said Preston Gralla on Computer World, the Windows store "no longer seems as barren of goods as a Romanian grocery store during the depths of the Ceausescu regime." But the desktop still looks the same. It's a "dual operating system," and has "few links between the two." On a tablet, it's a great alternative to other operating systems, and has "an information-centric approach to user experience, rather than an app-centric one." But on a PC, "it's a mixed bag."
It's OK, but the user experience isn't ready yet
Peter Bright on Ars Technica agreed that not much had changed since the previews. What is different is "essentially all graphical." It comes with a "high level" tutorial, which teaches users the "fundamental concepts" but leaves them on their own "when it comes to the finer nuances of the interface." Will that be enough? "My instinctive reaction is that it's inadequate." The colours are "fairly brightly" done, and there's more background images. As everybody else, though, the site agreed that users will have a problem since the App store is so barren. "The operating system may be done, but the user experience still needs to cook a little longer."