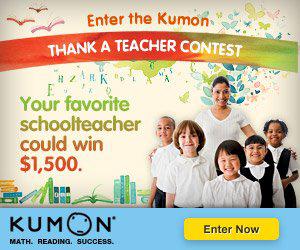 I thought you guys might be interested in this email I got about a teacher contest. If you write a short essay about your favorite teacher before November 8th, they could win $1500! That sounds good to me!

I want to let you know about a contest we've launched on the Kumon Facebook page that we'd love to have you participate in.

The Kumon Thank a Teacher Contest honors schoolteachers that have gone above and beyond to help their students succeed in and out of the classroom. Three teachers will win $1,500 to spend on their classrooms. Parents are encouraged to nominate an exceptional schoolteacher by submitting an essay (200 words or less) explaining why that schoolteacher deserves to win the $1,500 prize.
We encourage you to share this wonderful opportunity with your readers and to nominate your favorite teacher. The contest is open to submissions until November 8. On November 10, we'll announce ten finalists, and then the public can vote until November 18 to pick the three teachers who will win $1,500 each.

-NewsAnchorMom Jen