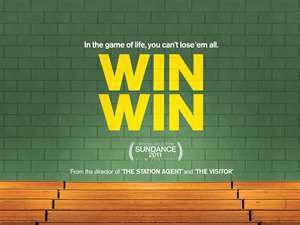 GRADE: B+
Should Win Win get a Best Picture nomination? Right now, from what I have seen I would say yes, absolutely.
This is the first Tom McCarthy film I have ever taken the time to view (and as soon as I am done with my marathon, it certainly will not be the last!) and I am impressed to no end. Win Win is such a simple film yet it brings undeniable power, along with some of the best characters of the year, to a story with surprising depth.
Mike Flaherty (Paul Giamatti) is a family man and an attorney with a law firm that just can't seem to go anywhere but down. To make more money he also is the head coach of the local high school wrestling team. He is out of luck entirely and has to desperately search for an answer to his financial problems; that answer comes in the form of Leo Poplar (Burt Young).
Poplar is an old aged client who is having trouble taking care of himself, but insists on staying in his home. Living within his district, Flaherty offers to be Poplar's legal guardian (which pays 1500 dollars a month) and to make the situation easier on himself puts Poplar in a nursing home, claiming that it was the judge's orders.
Along with the money, this turns out to be one sweet deal for Mr. Flaherty. A young man, Kyle Timmons (Alex Shaffer), shows up randomly on Poplar's doorstep and is supposedly his unknown grandson. Because Timmons' mother is an alcoholic and a druggie, Flaherty and his wife offer to let him stay with them. Timmons turns out to be quite the fantastic wrestler, and with the money coming in every month Flaherty thinks he has his life under control, until Timmons' mother come back for him.
Win Win is seriously I movie I just don't have any criticisms for. It isn't ambitious, it isn't complicated, and it certainly isn't a thinker. The movie is a simple look at simple characters in their simple lives. Don't overlook it though, Win Win may just be a little ol' slice of life, but McCarthy writes these characters up so well that the audience cannot help but think about them for a long time after the movie is finished.
McCarthy is clearly an actor's director, from what I can tell he sure knows how to bring the best out of his cast. Those of us familiar with his work would never expect less from Paul Giamatti, but Amy Ryan was absolutely fantastic, a shock to me. I did not like her in The Office or Gone Baby Gone, but here she is in top form, proving to me that she can act very well.
However, the real surprise was Kyle Timmons. At first he needed time to ease into the role, but as the film continued he played the character flawlessly. I think the overly emotional teenager role is over acted way all the time, but not Timmons, he owned his part in this movie.
Final Word – I might have spoken too soon when I said Jane Eyre was the most overlooked film of the year.