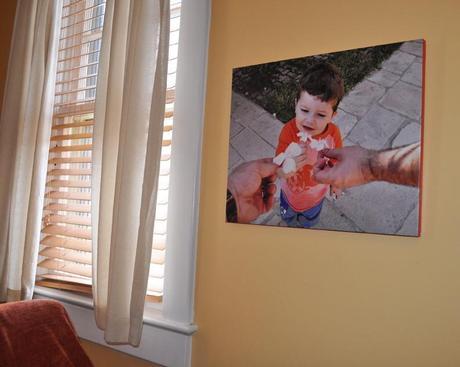 If you're anything like me, you've already taken a petabyte's worth of photos documenting your delightful offspring. Sadly, the immense majority of these are destined to spend all eternity as a series of drab, boring ones and zeros in some hard drive, DVD or perhaps in the cyber netherworld that is Google Drive. 
Well, here is a chance to give three of those treasured images a stage where they can bring joy to you on a daily basis. The wonderful folks at Printocopia are giving away three canvas prints to a deserving someone. Maybe even you. Imagine, three different glorious canvas prints of your progeny adorning the walls of your home, office or le Musée du Louvre. (Pourquoi pas?) Or three copies of one particularly precious picture to be shared with two sets of grandparents. If you are the lucky winner, the choice will be yours.
Read Brent Almond's (AKA Designer Daddy) great review of Printocopia's canvas prints here.
The Three Canvas Prints Giveaway from Printocopia is open to U.S. Residents 18 years of age and over. All entries must be made by Tuesday April 2, 2013. (Don't know why you'd wait that long but—hey—what do I know.)
Enter the Three Canvas Prints Giveaway from Printocopia here.
Don't leave yet! These might interest you...
You Like Me! Right Now, You Like Me!Her Little Heart Is FineCan't Get the Theme From 'Hawaii Five-O' Out of my Head