Is there much point in anyone else turning up for the FIFA Ballon d'Or later in the year? Last season Messi won the award with over 22% of the votes cast by international coaches and captains despite being overshadowed on the international stage by the Spanish. This year so far he has been untouchable. His 50th (FIFTIETH) goal of the season came on the 23 April against CA Osasuna, and a few days later he followed that up with two goals against Real Madrid in the Champions League semi-final, one of them a stunning solo effort. Then came his effort in the Champions League final against Manchester United to almost guarantee the award. Many commentators simply refer to him as the greatest player of all time.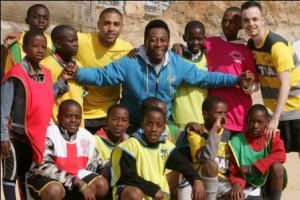 But that is quite an honour to be bestowed on someone who is just 23 years old. For us that honour still sits on the shoulders of Edison Arantes do Nascimento or Pele as he is known across the world. His record of 1,281 goals in 1,363 is the yard stick that Messi has to aim for. Since giving up the game in 1977 he has become an ambassador for football across the world as well as recently becoming the Honorary President of the New York Cosmos.
His influence on the game has inspired millions and now a range of sporting goods is carrying his name and vision into the 21st century. Pelé Sports is based on the great man's vision, philosophy and ideals. The brand is designed to help the performance of the player – designed with football in mind and not just about a label.

And those generous chaps at 
Pelé Sports
 want to give you the chance to win some free stuff.  We all love free stuff after all.  So here is what you have to do.
Simply visit Pelé Sports by 5pm BST on Friday 10th June 2011 and pick a product you like from the Pelada or Pelé Story collections.  Then send a tweet to @theballisround AND @pelesports saying what the product is and why you want it.  A real challenge to get it in 140 characters I know but I also know you can be creative.  Two winners will be picked at random at 5.30pm (BST) on Friday from the responses we get.