Today marks the start of a very special treasure hunt where anyone can win pairs of Puma Trinomic XT1 trainers, thanks to those good chaps at JD Sports.  To enter all you need is your smartphone, access to Twitter and some hunting skills.  Running across four cities in the UK and New York, you will follow the clues on Twitter to find the Krate, the trainer storage location.  Inside you will find a winning token that you can then swap for not one, but two pairs of Puma XT1 in your size!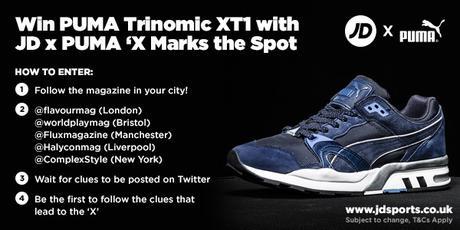 Beginning today in London, the competition will move quickly between cities, with each magazine sending out a number of clues, beginning with a map clue with an X where the Krate can be found.
To take part simply follow the magazine in your city from the list below:
London: @Flavourmag
Bristol: @Wordplaymag
Manchester: @Fluxmagazine
Liverpool: @Halcyonmag
New York: @ComplexMag
If you get to the prize first, take a quick selfie (or shoe-ie), Tweet it, remembering to tag the relevant magazine and @JDSportsfashion and add the hashtag #JDXPUMA.
Out of luck?  Then you can still buy a pair from JD Sport here.
Terms and Conditions.