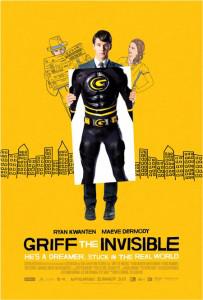 If you're going to be at Comic-Con this weekend, you can win tickets to see Ryan Kwanten's new film, Griff The Invisible!
Fandango has teamed up with Indomina Releasing to give away five pairs of tickets to the Saturday night screening of True Blood star Ryan Kwanten's new underdog superhero movie Griff the Invisible!
All you have to do is comment on their site (click on the link below) with your answer to the following question – Besides Griff, what other superhero would you like to see Kwanten play?
All entries must be received by Thursday July 21 at 6p.m. PST and keep in mind that transportation, hotel, etc. is not included.
The screening will take place Saturday, July 23 at 7p.m. at The Pacific Theater in the Gaslamp District in San Diego.
If you don't win, don't worry. Griff will be in theaters August 19th.
Click on this link to enter the contest: fandango.com