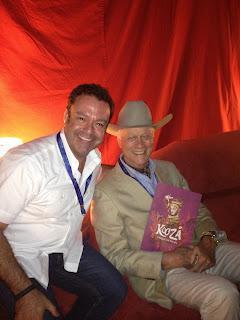 Abraham Salum with Larry Hagman
photo: Abraham Salum
Cirque du Soliel's latest touring production,
KOOZA
, just rolled into town and I was lucky enough to get a seat front and center on opening night.
You can WIN the VIP Swag Bag I got on opening night! Read on for details...
In the VIP tent I chatted with actor
Drew Waters
, CBS reporter
Teresa Frosini,
Bravo TV's
Matt Nordgren, Steve Kemble
, actress
LeeAnne Locken
and representing the culinary community were chefs
Tiffany Derry, Abraham Salum
and
Stephan Pyles
.
But even the local celebs were all a-twitter over the appearance of the dashing
Larry Hagman
, who came complete with white cowboy hat and boots.
Sarah Hepola over at the DMN gives a great review of KOOZA, if you want the low-down on the theme and specifics of the show. Personally, it never matters to me what the show is about because I always know that it will be worth the ticket price. I will say that this is one of the best Cirque shows I've seen in years. Even my 12-year old son was rapt through the entire show, his mouth hanging open as we witnessed one amazing act after another.
KOOZA will be in Dallas through October 28 and I can't recommend it enough. To purchase tickets, visit http://www.cirquedusoleil.com/en/shows/kooza/tickets/dallas.aspx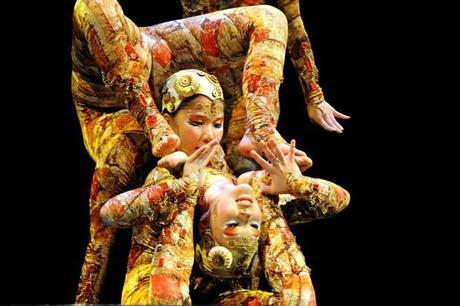 Alexandra Olivia/Special Contributor Contortionists perform on the opening night of Cirque du Soleil's "Kooza" on Wednesday, Sept. 19, 2012 in Dallas.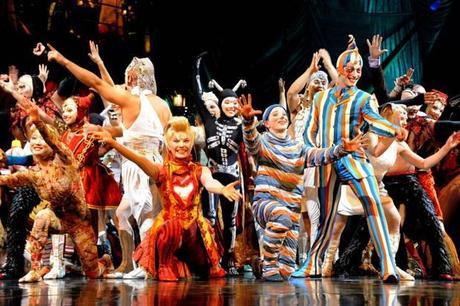 Alexandra Olivia/Special Contributor The big finale on the opening night of Cirque du Soleil's "Kooza" on Wednesday, Sept. 19, 2012 in Dallas. 
Now... on to that prize! 
I am giving away the swag bag I got on opening night. Inside this bag is a Cirque du Soliel baseball hat, Juggling Balls, CdS branded journal/notebook, rubber bouncing ball that lights up when it hits the ground, red clown nose and my VIP badge from the show.  To enter to win, just leave a comment below and tell me what your favorite Cirque du Soliel moment or show has been. And if you've never seen a Cirque show, tell me why you want to go!
For extra entries to win,
retweet
this post (every tweet is an entry):
Win a VIP swag bag from Cirque du Soliel's KOOZA from @OhSoCynthia at http://bit.ly/Qq61lz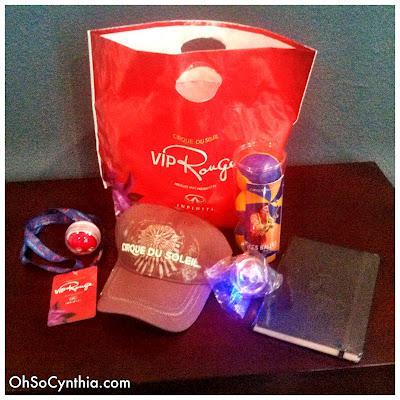 PS: Want to make it an extra special night? 
Five Sixty by Wolfgang Puck
is offering a special pre- and post-show menu exclusively for guests of
KOOZA
.
Executive Chef Patton Robertson has created a prix fixe menu featuring three Asian-inspired courses. The first course, served family-style, consists of Executive Sushi Chef Hiroyuki Fujino's Nigiri & Maki Rolls and House-Made Dim Sum. For the entrée, diners can choose from "Hong Kong Style" Salmon with Bok Choy, Shitake and Jasmine Rice; Crispy Quail "General Tso" with Sweet Chili Soy Sauce and Mizuna; Honey Glazed Pork Chop with Sautéed Spinach and Apricot-Vanilla Puree; or Petite Beef Filet "Au Poivre" with Wok-Fired Sweet Corn and Smoked Shallot Sauce. The menu concludes with Peaches and Cream Cheesecake topped with Caramel and Peach Sorbet. 
Five Sixty's pre- and post-show menu will be offered for $60 per person. Optional wine pairings can be added for an additional $35 per person. Reservations are encouraged and can be made by calling the restaurant at
214.741.5560
. For more information and to purchase tickets, please visit