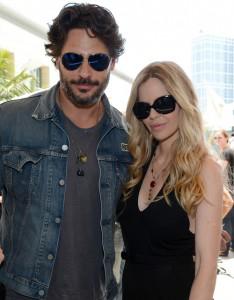 Kristin Bauer and Joe Manganiello
Kristin Bauer has added more goodies on her fundraiser page for Out for Africa, the documentary in aid of elephants and rhinos that she will shoot in Kenya this summer.
To the long list of True Blood related incentives 2 very special scripts were added of the episodes with the flashbacks of Pam and Eric, signed by Kristin, Alexander Skarsgard and the writers of the episodes.
You can also buy a dinner for two in Hollywood with the ladies of True Blood; Jessica/Deborah Ann Woll, Lorena/Mariana Klaveno, Arlene/Carrie Preston, Holly/Lauren Bowles, Maryann/Michelle Forbes, Nan/Jessica Tuck, Tara/Rutina Wesley, Ginger/Tara Buck,
And last but most certainly not least a dinner for two with both Kristin and Joe Manganiello.
For more info and to make your pledge in support of Out for Africa visit Kristin's fundraiser page.