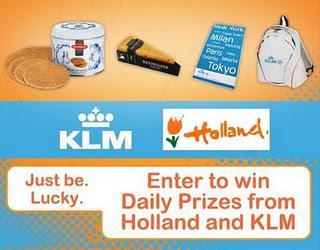 Updated June 10, 2011:
Unfortunately, the agent responsible for getting this information to me was incredibly misleading. Readers who have tried to participate in this contest have reported back to me that the contest is over. It ended the last weekend in May, despite the fact that the email and KLM and Holland Facebook pages do not give a contest deadline. My appologies on behalf of the contest organizers.
Okay, so I know many of you live in the Netherlands. And that's what I tried to tell the lady who sent me this information, but even though she professed to being a regular reader of the blog, she didn't seem to believe me.
If you do already live in the Netherlands and want to play along, I'm not really sure how or if that would work. The contact person who sent me the information is Stefanie and she can be reached at
[email protected]
if you care to shoot her an email to ask her.
For those living outside of the Netherlands wishing to participate, here is the information as forwarded to me by Stefanie. If you'd like a hint, send me an email at
[email protected]
.
Do you like trying new things or want to experience the culinary wonders of Holland?
Well here's your chance to see Holland's wondrous sites and sink your teeth into some delicious Stroopwafels, Van Dobben croquette, Gouda and so much more!
With Holland and KLM's latest campaign "Just Be. In Holland" fans are given the chance to get a taste of Holland with a luxurious World Business Class trip for a 3-night hotel stay in Amsterdam for TWO!
All you have to do to enter is head to the KLM or Holland Facebook page and answer what 10 cities the chosen U.S. cycling teams will be touring in Holland.


Follow our American Cyclists as they visit

the official city of Gouda and for a lesson in cheese making

.
Also check out some of their other videos that can be found on the Holland and KLM Facebook pages to see what else Holland has to offer including windmills, canals, their American roots, Masters of the Arts, food, and much more from each historic
city.
Each day, the cyclists will upload photos and videos about their culinary experiences and overall trip for your viewing pleasure! Tag along and learn the ins and outs of Holland cuisine while getting the chance to win some awesome prizes DAILY in the 16-Day Giveaway!
You have 16 chances to win a Holland prize pack including a KLM backpack, KLM beach towel, Holland bikeland photobook, Stroopwafels (Famous Dutch Waffles), cheese, and more - a retail prize value of $70!
Just visit the Holland and KLM Facebook page daily and answer a trivia question about the cyclists journeys and you could win!
Click on either link below to enter to win your luxury trip!


http://www.facebook.com/visitholland?sk=app_136423096429861

http://www.facebook.com/KLMUSA?sk=app_136423096429861


Thank you!
Stefanie

Did you enjoy this post? Subscribe via rss feed or email to catch the latest from Clogs and Tulips: An American in Holland.
©2011, Clogs and Tulips: An American in Holland. All rights reserved. On republishing any part of this post, you must provide a link back to this original post