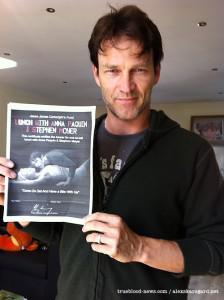 This is your chance to visit the True Blood set and have lunch with Anna and Stephen. The proceeds of this charity auction will be donated to the Jesse Cartwright Trust Fund.
Jesse was a True Blood crew member of the Transport Department and passed away earlier this year. Jesse's colleagues from Transport have set up a trust fund to help secure the financial future of his children. Donations are accepted on the Trust Fund website www.jessecartwright.com.
Visit the eBay listing for more info and to place your bid.