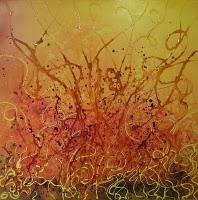 Without those who kindly donate either time or money, charities would simply be unable to function. That's why, over the holiday season, Artery Gallery is running a charity competition to win the fantastic painting 'Flaming Embers' which has been donated by the artist Derek Collins.
To enter, all you need to do is drop into Artery Gallery and guess how many matches are in the jar. Entries are £1 and every single penny of your money will go to the charity OUCH UK.
OUCH UK is the Organisation for the Understanding of Cluster Headache. Cluster headache is also known as suicide headache and is the most painful condition known to man.
OUCH UK help to raise awareness and support those who suffer from this debilitating and agonising condition. They are a small charity but the work they do is vast. For more information, please visit the charity website www.ouchuk.org
The winner will be notified on 31 January 2012. Please get involved.