I remember when I was growing up that I was told that men sweat, ballerinas perspire and women glow.  The reality is that I have been known to sweat and perspire through my glow.
Dove asked me to road-test their new Pure range of anti-perspirant deodorants for a week and they want me to give you a Dove Hamper too (more on that later).
Now, as I'm in my mid-40s I have started feeling like it's mid-summer every night, around 3am as I wake up sweating  glowing and by morning I will notice that I might be rather stinky whiffy.
The Dove Pure range has 48 hour protection. I will admit that I shower once every 24 hours so I've not tried to test the full extent of its protection, but I will let you know that even after a hot night I'm not offending myself my partner or my daughter (who, like other 7 year olds, will happily tell me if I smell less than fresh).
Speaking of my partner, during the road test, each time after I went to the gym, I came home and insisted that he smell my armpits (charming, I know, but sometimes you need an independent opinion), and he has let me know that the Dove Pure has done its job and that I just smell like me.
One of the other criteria that I judge an anti-perspirant on is whether it leaves white marks on my black clothes.  I'm really happy to report that it doesn't.   Must be because it doesn't contain any colourants either.
I like that it doesn't have any parabens (nasty), fragrance (I like to wear a perfume that I choose and don't want a second scent interfering with the perfume of the day), colourants (no white marks on clothes) or alcohol (drying for your skin and can be irritating) and contains ¼ moisturising cream so that my skin is soft, even after daily shaving.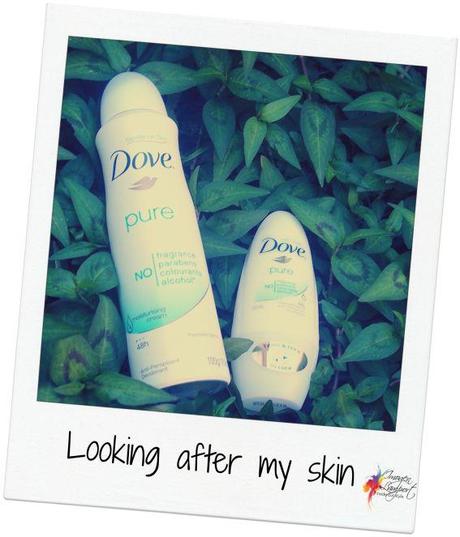 Now it's your turn to win!
The people at Dove want to give away a Dove Hamper which includes Dove Pure products to one of my lovely readers.
To win, leave a comment here about why you'd like to try Dove Pure.
Entrants must be Australian residents and entries close 24 April at 5pm AEST and winner will be notified by email.  Full terms and conditions here.