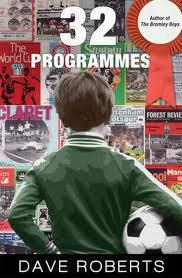 Ever since a preview copy landed through our letter box was have been waxing lyrical about Dave Robert's latest publication, 32 Programmes.  Well, thanks to those nice chaps at Transworld we have two copies of the book to give away FREE OF CHARGE.  Yep, free of tax, priority boarding fees, fuel levies, credit card fees and any strange donations.  Heck, we will even pay the postage (well, the work franking machine will).  You can read a review of the book here.
To win one of the two copies all you need to do is go to In Bed With Maradona's fantastic website and read the piece we wrote about The Civil Service football team and their FA Cup tie against Bromley from 1971which is one of Dave's 32 Programmes.  Then simply send us an email (TBIR at gmx.co.uk) with the title Civil Service and tell us the answer to this simple question:-
"How many goals did Bromley score in the FA Cup match mentioned?"
The winners will be drawn by our magic number generator at 12pm on Monday 26th September.  Good Luck, and if you don't win then you can pick up a copy of the book here.