Win a copy of Jo Pratt's Madhouse Cookbook worth £20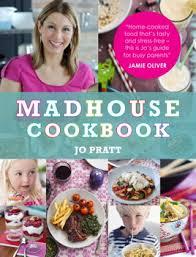 Jo Pratt, TV chef and author of Madhouse Cookbook, is helping families create some quick, delicious and nutritious meals on The Ideas Kitchen website with Panasonic. We know how tough it can be to create a meal from scratch that the kids will enjoy, so throughout September Jo's here to help with some easy to follow video recipes. She's also got a brilliant cookbook with lots of family friendly meal ideas so you can focus on spending time with the ones you love.
 
To be in with a chance of winning one of one signed  of Jo's new book, just pop over to The Ideas Kitchen website and have a look at her video recipes.
 
Question:
  Name one starter Jo made?