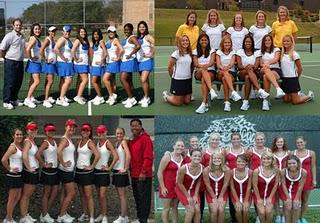 If only my tennis team looked like this . . .
What if your whole tennis team could be outfitted in coordinating uniforms that were fun, fashionable and fit beautifully? And what if someone provided those uniforms to your team for FREE? Would that be a dream come true or what?
Well, ladies, here's your chance! My fav fitness apparel manufacturer, 4allbyjofit, is hosting another great contest. They're searching for a tennis team (and a golf team by the way) to receive a team makeover where every team member gets a new 2 piece outfit from 4all. And, bonus, 4all will tell your team's inspiring story along with before and after photos showing your transformation and how great you all look in your new outfits. And why is 4all so interested in helping your tennis team look fantastic? Because the motto at 4all is "when you look your best, you play your best." I couldn't agree more (actually, I think my motto is more like, "I don't care if you play better than me, as long as I look better than you!").
So how can your team win? You'll need to send a photo of your entire team and your story to 4all. The complete details can be found on 4all's web site (www.4allbyjofit.com) at this page: Win A Team Makeover From 4all By Jofit. Entries need to be sent in by July 10, 2011 so get on this now.
Oh my goodness! How much would I love it if the team of one of my Tennis Fixation followers won this contest? I would LOVE to post those team photos here! If your team enters, you have got to let me know. And good luck!

© Kim Selzman 2011 All Rights Reserved