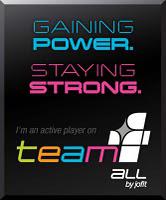 I know you know how much I love my 4all by jofit fitness apparel. I've told you several times how great it makes me look whether I'm playing tennis, working out or square dancing (remember this great post? - Fitness Wear That's Appropriate For . . . Square Dancing!). Anyway, now you have a chance to win a whole wardrobe of 4all gear!
4all by jofit has teamed up with Woman's World magazine and they are giving away three $400 4all gift cards. To enter, just click here - 4all and Woman's World contest - and you'll be taken to the page on 4all's web site where you can enter. You can also find this page by visiting the 4all website - www.4allbyjofit.com - and clicking on the "News" link at top of the page.
When you're on their web site, look around at the super cute outfits they offer and then figure out how many of them you'd be able to buy with a $400 gift card! I can tell you - a lot! Today is the first day you can enter the contest (talk about me being diligent in getting the news out!) and the contest ends August 4 so I would enter now if I was you, just so you don't miss out. And, because I actually do have some international followers!, be aware that this contest is only open to residents of the U.S. and Canada.
Good luck and I hope that if one of you wins, you'll let us know all about your 4all shopping spree!


© Kim Selzman 2011 All Rights Reserved