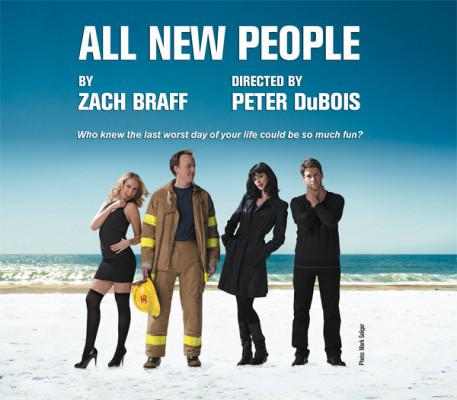 We are still hoping that Anna Camp will return to True Blood and will once again play the part of Sarah Newlin, wife of Rev. Steve Newlin.
In the meantime you can catch Anna in the Off-Broadway show All New People and we are giving away 2 free tickets.
All New People is a new show by Zach Braff and directed by Peter Dubois, All New People stars Anna Camp of "True Blood" fame, David Wilson Barnes (Becky Shaw), Justin Bartha, (The Hangover, Lend Me A Tenor) and Krysten Ritter (All This Intimacy, 27 Dresses).
It's the dead of winter, and the summer vacation getaway of Long Beach Island, New Jersey is desolate and blanketed in snow. Charlie is 35, heartbroken and just wants some time away from the rest of the world. The island ghost town seems to be the perfect escape until his solitude is interrupted by a motley parade of misfits who show up and change his plans.  A hired beauty, the townie fireman, and an eccentric British real estate agent desperately trying to stay in the country suddenly find themselves tangled together in a beach house where the mood is anything but sunny.
How to participate in the Giveaway
You may have heard that Rev. Steve Newlin has gone missing. Also his wife Sarah Newlin seems to have vanished. What do you think happened to them?
Leave your comment and data in the below form before July 15 for a chance to win 2 free tickets to All New People in 2econd Stage Theatre- 305 West 43rd Street- New York.
Your Name (required)

Your Email (required)

Your Message (required)


Or benefit from the special discount price of $45/ticket by ordering:
ONLINE: Visit www.2ST.com and enter code APAN
PHONE: Call 212.246.4422 and mention code APAN