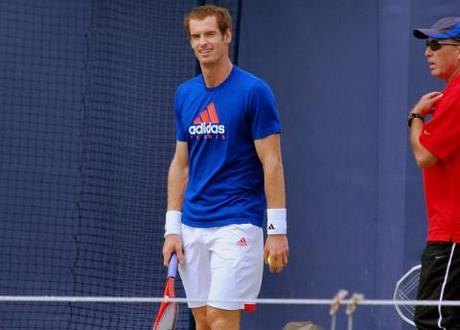 Andy Murray beats Ivo Karlovic Photocredit: Carine06
The background
Andy Murray beat Ivo Karlovic (who is 6 ft 10) at Wimbledon in the second round, after four sets. Karlovic was foot-faulted 11 times, and has accused officials of favouring Murray. Murray responded by saying that if that was true, then that was unfair, but it was not usual for so many faults to be called. The match was even, and the game was sealed when Karlovic served a double fault at 4-4. Pippa Middleton was watching, and had to duck when a ball hit by Karlovic whacked into the Royal Box. He also managed to hit a Chelsea Pensioner on the shoulder. He held the world record for the fastest serve, at 156 mph, until Sam Groth served a 163 mph one last month. Murray now reaches round three, where he will play Baghdatis, who was coached by Murray's former coach Miles Maclagan.
"It was outrageous, outrageous. It's Wimbledon, Centre Court, and they do this. The whole credibility of this tournament went down for me," said Karlovic, quoted on the BBC.
Wimbledon's integrity can't be questioned
Tim Henman analysed the situation on the BBC, and said that Karlovic is implying that the line judges were cheating. He said that Karlovic would "regret saying", and that "you can't question the integrity of this tournament."
It was a dramatic game
In "true Murray fashion," said The Daily Record, "the triumph did not come without its moments of drama." Karlovic has "the fastest serve on the planet", which at times was "unplayable." But Murray's "exceptional reflexes and outstanding reach" gained him the win in "just over three hours." Karlovic "rained down ace after ace", but "the home favorite started to get his measure."
It showed Murray's brains over Karlovic's brawn
It "began as a tactical conundrum," said Kevin Mitchell in The Guardian, but "ended in spiritual turmoil for Ivo Karlovic." Murray "soaked up" Karlovic's power "in a battle of mind and muscle." The match was "anything but disappointing." Karlovic, who is "crane-like", "not only served with his trademark menace," but "chipped and lobbed judiciously." But Murray showed his "genius" in "conjuring a winner from very little." His "reputation as one of the smartest thinkers in tennis is deserved."
Murray's game has given him a great start
Murray "could not have asked for a better start", said Nick Bollettieri in The Independent. Despite Karlovic's serve, Murray's game is "a level above his opponent's." It's "in pretty good working order." Karlovic's problem is his backhand. Just watch Murray going for it.
Watch the highlights