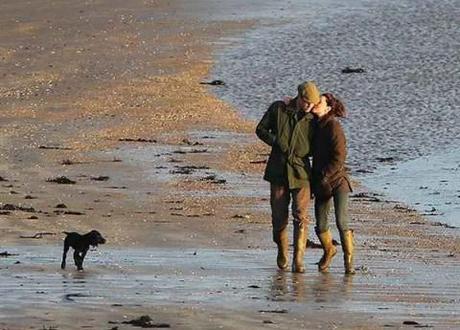 Man, woman, dog. Who needs more? Photocredit: http://aboutwilliamandkate.blogspot.com/
The halls of Buckingham Palace are hearing the patter of tiny feet! Yes, the Duke and Duchess of Cambridge have finnnnnalllllly….. bought a puppy! And we all know, don't we, what that's preparation for… Royal babies!
The new royal addition to Prince William and Kate's family is a three-month old male cocker spaniel, reported Hello! magazine, thought to have come from a litter bred by Carole Middleton, Kate's mother. It was a gift from the Prince to his wife. Sweeeeet!  St James's Palace, however, won't reveal the name of the mutt, as it is apparently a "private pet." Periscope would like to hear your suggestions though, and would like to guess that since Kate's nickname for Wills is, um, Big Willy, it might be called "Little Willy." Let us know what you think below.
So it's goodbye to the decades long symbol of royal dogginess, the corgi, whose appearance around the skirts of Her Majesty the Queen has become as much a part of British life as scones, rain and increasing rail fares. According to a survey by Select, from Direct Line, of 2000 people, 35 per cent voted for the traditional corgi as a suitable companion for our future Queen. Most wanted a Cavalier King Charles spaniel – perhaps for obvious reasons – but the cocker spaniel came a close second, at 18 per cent of the vote. It's the "second most popular dog in the UK," according to the Kennel Club. So they're obviously in touch with the people and stuff, you know?
A friend in need. The puppy's going to be "good company for Kate," gushed Marie Claire, as Wills is off to the Falkland Islands with the RAF.
Lines of Succession. They've certainly "bucked Windsor family tradition," said The Reliable Source blog on The Washington Post, by eschewing a corgi for a spaniel. But "despite a recent overhaul in monarchical succession rules (in the future, elder daughters will precede their brothers), scholars say the dog is not currently in line for the throne."
Guess what's coming…. It's a "cute gift," said Cinemablend, but also more responsibility. "In order to be a good pet owner, you must be reliable for your dog, you must be able to teach the dog how to behave, and you must be physically responsible for the pet in all situations. What does that sound like good practice for? If William and Kate really nail this pet ownership thing and British Royal fans are particularly lucky, there could be a much more exciting gift to announce next Christmas. Fingers crossed it won't have his hairline."
Canine of Cambridge. The Stir was a bit more practical, wondering who will "actually be taking care" of the "Canine of Cambridge." Though William and Kate are "all down-to-earth and normal and whatnot," it was hardly likely that "royalty picks up doggie poo-poo. Or even really walks the doggie. They have people for that. Haven't you ever seen Downton Abbey?" The blog offered some advice: "Always bring two bags when you go on a walk. You probably won't need them, but the one time you don't bring an extra, trust me, you'll wish you had."