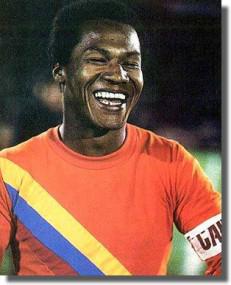 Colombian football legend Willington Ortíz
This was the latest feature I wrote for In Bed With Maradona on Colombian football legend, Willington Ortíz.
———–
It seems like many nowadays the Colombian player is being appreciated more and more when it comes to markets abroad. Major
League Soccer made Colombia in the past couple of years in one of the most favorable places in the world to restock or reload their franchises.
Argentina was always a launching pad for several Colombian players to achieve even greater fame and in many cases become idols there. In Brazil players like Freddy Rincón and Victor Aristízabal are looked at as individuals that became synonymous with their clubs in a time right before it began to be hip to start considering Argentine players.
"If Willington Ortíz would have played in the World Cup in Italy,he would have been the king of world football"- Efraín "Caimán" Sánchez
Of course, let's not forget the legacy left behind by Carlos Valderrama and that generation of players that kicked off the most successful yet controversial epoch in that country's footballing history. So through all of the talk of who should be considered the greatest Colombian player of all time, there is one that seems to have been lost in the mix when you also mention players like "El Pibe", "El Tigre", Faustino Asprilla as well as the Rincón's, Valencias, Higuitas, Álvarez' of the world.
Willington Ortíz.
Yeah. "El Viejo Willy" (Old Willy) was and still is in the eyes of many Colombians as one of the greatest players to have ever played. So much so that many European sides as well as the all-star team that was the New York Cosmos looked at bringing him into their
ranks alongside Chinaglia, Cabañas and help reload a team that saw players like Pelé, Beckenbauer and Carlos Alberto go into definite retirement.
Pure improvisation. Constant movement. Fluid movement. Ambidextrous. His play was like as if he choreographed everything prior to. His play was a direct reflection of how he lived the game and how the city of Cali's liveliness and desire to celebrate at the drop of a hat was clearly symbolized. Willington Ortíz once said, "In order to live in Cali, you had to know how to dance."
Former Millonarios star Arturo Segovia once said that the only other player he had seen do the things that Ortíz did was Pelé. That was how much of a different player he was when he had the ball at his feet. It was as if he was dancing with the ball at his feet.
El Viejo Willy had a mix of talent that very few have seen in a Colombian player ever. His ability to dribble the ball as if it was tied to both feet combined with his pace and penchant for the net were vital at the domestic level to have helped teams such as Deportivo Cali as well as América achieve the successes they achieved during his heyday.
Many though also praised his ability to be able to maintain possession of the ball and shielding off defenders, making him one of the toughest players in the game to dispossess. This is what made him such a standout at the youth levels and would make him the most relevant player in Colombian football for well over a decade.
READ THE REST HERE