This morning I kicked off the Christmas Bird Count season with the Williamsport CBC. This is my fourth year participating in the Williamsport CBC, each year seeming to be better than the last. This year I was assigned to an interesting area located in Montoursville called Kremser's Landing. Unfortunately due to the floods this fall the Kremser's Landing area was not accessible. This area usually holds Yellow-rumped Warblers, Yellow-bellied Sapsuckers, and other interesting species, which usually don't show up elsewhere.
I decided to kayak down the river in hope of finding some waterfowl or wintering Yellow-rumped Warblers. My first bird of the day was a Bald Eagle flying down the Susquehanna River. I paddled down the river about a mile with the only highlights being 7 Lesser Scaup.
Around lunch time I stopped by the dam in Williamsport to see if anything interesting was on the river. Struck out on ducks but I did get great looks at a Peregrine Falcon as it shot less than twenty meters in front of me. Here is a photo from the walkway where I saw the falcon.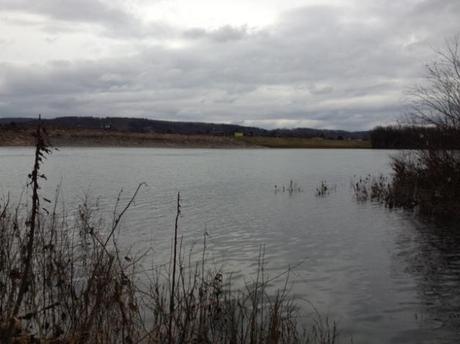 Soon after lunch Dave Ferry and I tried to find a few new species for the CBC. Our best find was a male Common Goldeneye and four Hooded Mergansers. Otherwise things were pretty slow. It will be interesting to see the results of this count, since this is by far my slowest year.  I'll be sure to blog about the results as soon as I get them.